The great yokai war Guardians
THE GREAT YOKAI WAR -GUARDIANS-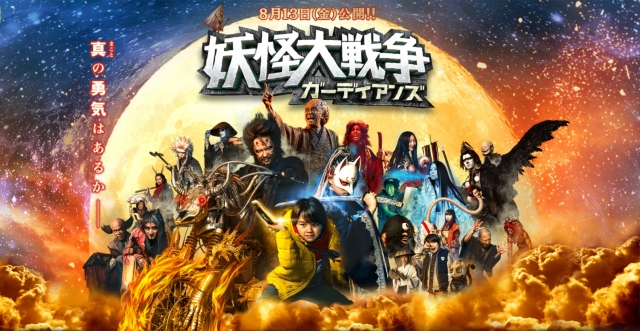 Release Date

2021
Running Time

TBD
Genre
Color

Color
Screening Format

-
[ Directed by ]
[ Cast ]
[ Staff ]
[ Story ]
In 20xx, along with Fossa Magna, a fault runs the Japan island from north to south, the local cities have been destroyed by what it seems like a storm or an earthquake. Tokyo is ahead of the route. Meanwhile, in Beijing, an international conference "Yummit" was held by the Yokai from around the world. They are discussing the fact that the Yokai monsters are gathered and formed from ancient underwater fossils and they are moving toward the Pacific Ocean. Human beings cannot see them, but the underworld, which cohabits with the human world, is also in danger of being destroyed. Japanese Yokai are asked to save the situation and two leaders, Nurarihyon and Inugami Gyobu start to take matters into their own hands.
The Yokai decide to bring the legendary Bushin (the God of war) back to confront the Yokai monsters. However, to bring them back, they will need help from someone who is descended from an ancient Yokai hunter Watanabeno Tsuna. There comes a schoolboy named Kei and his younger brother Dai, who are playing testing of courage. Destiny picks those brothers and Kei's big adventure begins as he tries to protect his younger brother.
Kei gets separated from Dai and tries to find him. He flinches from time to time, but he meets many Yokai along the way– a woman with a fox mask who is strict but always protect him, a demon who says one thing and does another, and a mysterious water dragon. Right then, Inugami Gyobu appears to block their path along with 2 demons, Shuntendoji and Ibarakidoji. They don't want to cohabit with humans and try to let the Yokai monsters do as they want. In the middle of Yokai monsters invasion and a global crisis, the Yokai are split into two –the ones who want peace and the ones who want change. The Great Yokai War is about to happen. What destiny awaits Kei, Dai, and the human...!?
[ Contact (International) ]
KADOKAWA CORPORATION
International Sales, Literature and Movie Group
2-13-3 Fujimi, Chiyoda-ku, Tokyo 102-8177
Rep: NATSUNO Takeshi (President)
Attn: MORI Chiyo
tel: +81 50 1746 1220
E-mail: mori-c@kadokawa.jp
http://www.kadokawa.co.jp