Tsuki wa noborinu
The Moon Has Risen (4K Digitally Restored Version)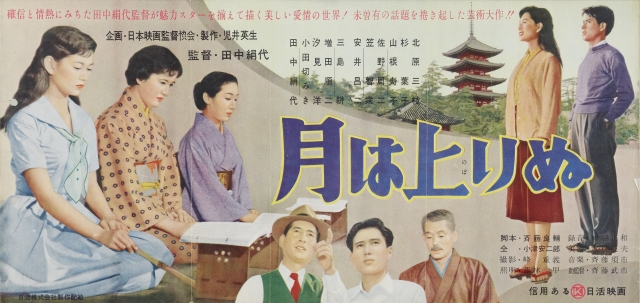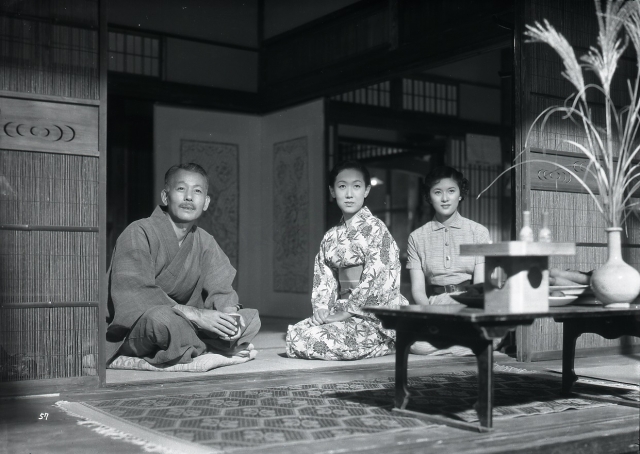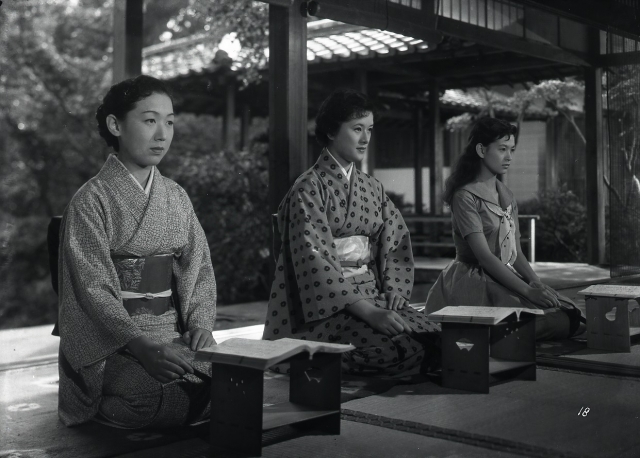 Release Date

January, 8th, 1955
Running Time

102 min
Color

Monochrome
Screening Format

DCP
Screening Format with Subtitles

English
[ Directed by ]
[ Produced by ]
[ Cast ]
[ Staff ]
[ Production Company ]
NIKKATSU
[ Distributor (Japan) ]
NIKKATSU
[ Story ]
Mr. Asai left Tokyo during World War II, and now resides in Nara. He is a widower who lives with his three daughters: Chizuru, the eldest, who has returned home after her husband's death; Ayako, who is of marriageable age but shows little interest in leaving home; and Setsuko, the youngest and most tomboyish of the three sisters. The latter is platonically close with Shoji, the out-of-work younger brother of Chizuru's late husband, who lodges at a temple near the Asai's home. They all occasionally get together to enjoy songs from Noh plays, as the days pass by uneventfully.
One day, Shoji's old friend Amamiya drops by while on a business trip. When Setsuko finds out that he remembers Ayako well from their youth, she joins forces with Shoji in a sneaky bid to reconnect the two. Deceptive phone calls ultimately bring Amamiya and Ayako together in a park under a full moon, and they begin to fall in love. Ayako travels to Tokyo on the pretense of putting an end to her aunt's attempts to marry her off to another suitor, but her true aim is to reunite with Amamiya.
Soon after, Shoji becomes a leading candidate for a job in Tokyo, but eventually lets his struggling friend Tanaka have it instead. This upsets Setsuko greatly, as she has long dreamed of a life in Tokyo with Shoji, which causes a seemingly insurmountable rift to open between the two. However, the chief priest at the temple where Shoji stays praises his generosity, and asks if he is interested in teaching at a school for trainee priests in Tokyo. Shoji decides to depart right away, but his late brother's friend Takasu and Chizuru learn of this and quickly come up with a clever ruse to make sure the unrequited lovers cross paths again. Setsuko is overjoyed and breaks down crying, and Shoji embraces her tightly. They vow to support each other in their new life together, and leave Nara.
A few days later, the Asai home is quiet and peaceful once more. As Mr. Asai and Chizuru ponder how Ayako and Setsuko are getting on in Tokyo, the patriarch surprises the widow by urging her to remarry. "Find a sturdy man who won't die on you. Mr. Takasu perhaps? He's the sturdy and durable type. You like him, don't you?" "Oh my..." All alone in the Asai home, they gaze at the beautifully clear early autumn sky over Nara. Their eyes do not exude loneliness, but rather a serene, grand, and abundant hopefulness.
[ Film Festivals, Awards ]
2021 Cannes Film Festival, Classics Selection
[ Contact (International) ]
Nikkatsu Corporation
International Sales
3-28-12 Hongo, Bunkyo-ku, Tokyo 113-0033
Attn: KAWAI Emico, FURUKAWA Mami, KATO Taku, SUNG Tzwei
tel: +81 3 5689 1014
fax: +81 3 5689 1044
E-mail: international@nikkatsu.co.jp
https://intl.nikkatsu.com