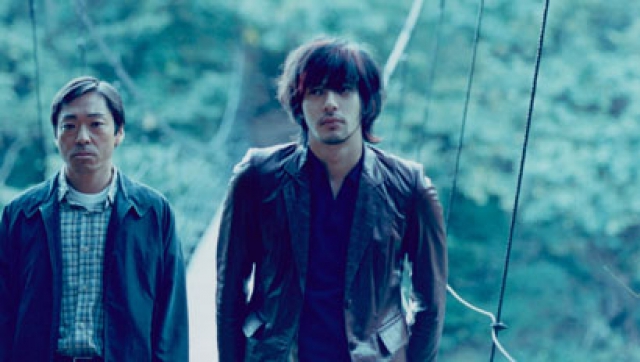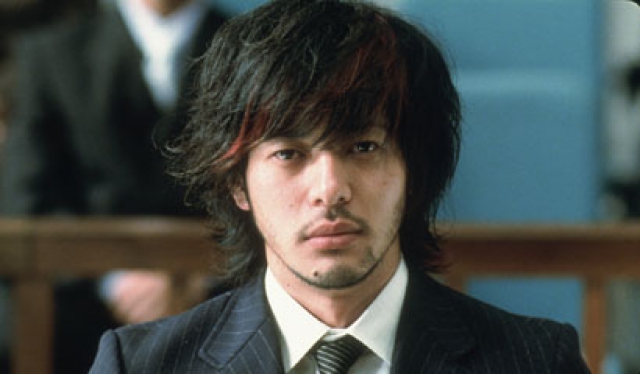 Release Date

July, 8th, 2006
Running Time

119 min
Genre
Color

Color
Screening Format

35mm
[ Directed by ]
[ Produced by ]
[ Cast ]
[ Staff ]
[ Production Company ]
ENGINE FILM, BANDAI VISUAL, TV MAN UNION, Eisei Gekijo
[ Story ]
Takeru (Odagiri Joe), who has been a success as a photographer in Tokyo, comes back to his home town for the first anniversary of his mother's death. He goes to visit a nearby gorge with his elder brother Minoru (Kagawa Teruyuki) and a childhood friend, Chieko. Minoru has a secret crush on Chieko, but Chieko says to Takeru, when Minoru is not present, that she wants to go to Tokyo with Takeru.
Takeru goes across the suspension bridge to the other side of the river to take his mind off things. Chieko goes after him, closely followed by Minoru. Then Chieko falls off the bridge that hangs over the gorge, leaving Minoru on the bridge out of his mind. Was it an accident or a case of murder? The elder brother's unknown side is gradually revealed as the trial progresses, swaying Takeru's mind. In an attempt to redeem his gentle and honest elder brother, Takeru makes a gamble with his brother's life as well as his own and testifies that his brother pushed Chieko off the bridge.
Directed by Nishikawa Miwa of Wild Berries (Hebi Ichigo). Officially invited to the Cannes International Film Festival Directors' Fortnight. The movie received many awards in Japan, and achieved an unusually long run.
[ Premiere ]
World Premiere: Cannes International Film Festival 2006
[ Film Festivals, Awards ]
Cannes International Film Festival 2006
Karlovy Vary International Film Festival 2006
Vancouver International Film Festival 2006
Valladolid International Film Festival 2006
Almaty International Film Festival Eurasia 2006
Stockholm International Film Festival 2006
Wiesbaden Exground Film Festival 2006
Oslo Film from the south 2006
[ Contact (International) ]
Celluloid Dreams
2 rue Turgot, 75009 Paris, France
tel: +33 1 4970 0370
fax: +33 1 4970 0371
E-mail: info@celluloid-dreams.com
http://www.celluloid-dreams.com
TV MAN UNION, INC. (Japan)
Cosmos Aoyama 5-53-67 Jingumae Shibuya-ku, Tokyo, 150-0001
Attn: IIDA Kazuo
tel: +81 3 6418 8700
fax: +81 3 6418 8747
E-mail: union_film@tvu.co.jp , kiida@tvu.co.jp