Chikujo Seyo!
RAISE THE CASTLE!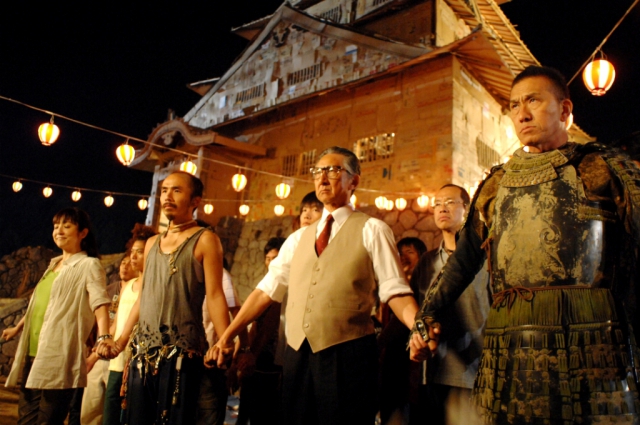 Release Date

June, 20th, 2009
Running Time

120 min
Genre

-
Color

Color
Screening Format

35mm
[ Directed by ]
[ Produced by ]
[ Cast ]
[ Staff ]
[ Production Company ]
HEISEI PROJECT / AMUSE / NAGOYA BROADCASTING NETWORK / HAMAGASHITA Hitoshi / TAIYOKIKAKU / E-NET FRONTIER / FURUKAWA SHOBOU / DENTSU / ANGELPACK / MURAI Kazuyuki / MORI Tsuyoshi
[ Distributor (Japan) ]
Tokyo Theatres
[ Story ]
A feature-length remake of director Kohatsu Yo's own short film that won the Best Foreign Language Film Award at the 2006 San Fernando Valley International Film Festival. As a project commemorating the 50th anniversary of the Aichi Institute of Technology, numerous students participated as extras and in the art department, which built a massive 25-metershigh castle using cardboard. The film became the first feature in Japan to use the extremely high-end Red One HDcamera.
In a small, rural town struggling with a declining population, the spirits of three samurai suddenly appear. Having died 400 years ago before completing his castle, the "Lord" (Kataoka Ainosuke) orders the townspeople to build a castle using cardboard. With help from a local college student, Natsuki (Ebise Hana), and other residents hoping to revitalize their town, this audacious plan is pushed along. But just as the project nears completion, the mayor, hoping to construct a factory in the same site, hatches a plan to destroy the cardboard castle.
[ Official Site ]
[ Contact (International) ]
For further contact details, please contact UNIJAPAN -> [ Contact ]