Living the idol life –SKE48 Behind the Scenes
Documentary eiga idol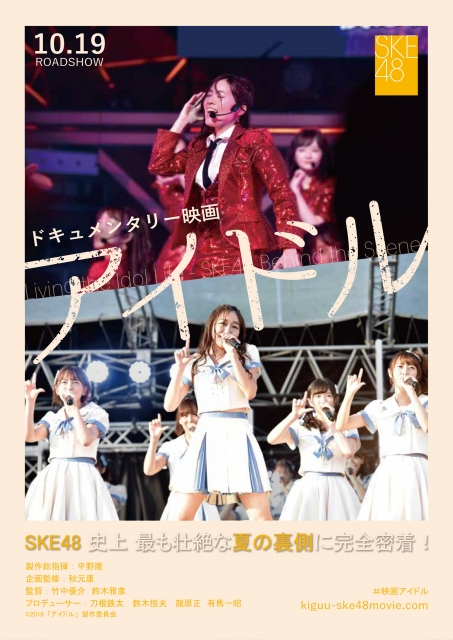 Release Date : October, 19th, 2018
Running Time : 118 min
Genre : Documentary
Color : Color
Screening Format : -
Screen Size : -
Sound Processing : -

[ Directed by ] TAKENAKA Yusuke , SUZUKI Masahiko
[ Produced by ]
[ Cast ]
[ Staff ]
[ Production Company ]
[ Distributor (Japan) ]
TBS Television, Kiguu
[ Story ]
How do you see Japanese idol?
They are young, cute, cheerful, gorgeous… that's how they seem to be.
You never know what really is happening behind the scenes.

Japanese "idol" have become popular not only in Japan, but throughout the world.
This documentary focuses on a group of girls who have decided to live their lives as "idol" called SKE48.
As the first group to be part of the 48project to promote idols overseas, SKE48 debuts in July 2008 in Nagoya, Japan.
Their struggles and their motivations to be idols are revealed in this rare behind-the-scenes look into the world of Japanese pop.
[ Official Site ]
[ Contact (International) ]
TBS (Tokyo Broadcasting System Television, Inc.) Global Business Department, Media Business Division
17F, 5-3-6 Akasaka, Minato-ku, Tokyo 107-8006
Attn: International Movie Sales
tel: +81 3 5571 3085
fax: +81 3 3505 1584
E-mail:
http://www.tbscontents.com