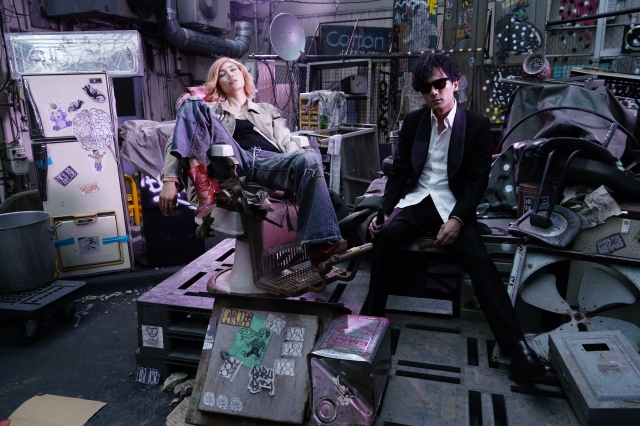 Release Date

2019
Running Time

100 min
Genre
Color

Color
Screening Format

-
[ Directed by ]
[ Produced by ]
[ Cast ]
[ Staff ]
[ Production Company ]
[ Story ]
"Barbara is a woman egested by the city after swallowing and digesting millions of human beings"
The story is set in modern-day Tokyo.
Famous novelist Yosuke Mikura encounters a young girl in the subway station and brings her home to his condominium. The girl's name is Barbara. For all her bad manners and constant state of drunkenness, she has a certain charm that is hard to put your finger on. Much like a stray cat claiming her territory, Barbara settles herself into Mikura's apartment. This propels the creatively congested Mikura to write again. His life takes a drastic turn for the better. Is Barbara a muse? An artist's savior? Or is she a spell-casting sorcerer?
Before long, the two become intimate and Mikura asks for her hand in marriage. The wedding ceremony is something of a black mass, but a sudden interruption forces them to abort the proceedings. Heartbroken, Barbara runs away. Mikura's life now takes a sharp tum downhill, causing him to suffer from paranoia. No longer able to tell delusion from reality, he incessantly pursues her and when he finds her they flee to the countryside. Mikura takes Barbara to a mountain lodge, but things get stranger and stranger.
Now worn out and at the brink of death, Mikura is suddenly gripped with the creative urge to write...
[ Official Site ]
http://thirdwindowfilms.com/tezukas-barbara/
[ Film Festivals, Awards ]
2019 Tokyo International Film Festival, Competition
[ Contact (International) ]
Nikkatsu Corporation
International Sales
3-28-12 Hongo, Bunkyo-ku, Tokyo 113-0033
Attn: KAWAI Emico, FURUKAWA Mami, KATO Taku, SUNG Tzwei
tel: +81 3 5689 1014
fax: +81 3 5689 1044
E-mail: international@nikkatsu.co.jp
https://intl.nikkatsu.com