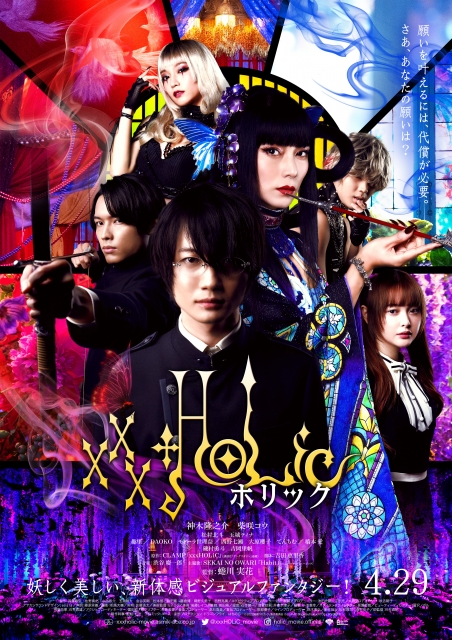 Release Date

April, 29th, 2022
Running Time

110 min
Color

Color
Screening Format

-
[ Directed by ]
[ Cast ]
[ Staff ]
[ Production Company ]
Shochiku Co.,Ltd. / Asmik Ace,Inc. / Happinet Phantom Studios Corporation / DOKUSO Theater Inc. / Lucky Star Co.,Ltd. / KODANSHA / Shochiku Broadcasting Co.,Ltd. / DRAGONFLY ENTERTAINMENT INC. / HACHINOJI Inc. / Chimney Town,Inc.
[ Distributor (Japan) ]
SHOCHIKU, Asmik Ace
[ Story ]
I can make any wish come true.
But you must pay the price —————
This is a "Shop" where you can make any wish that lurks in your heart come true. Now, what is your wish?
A high school student named Watanuki has a psychic constitution that makes him to see "Ayakashi" that foretell people's misfortune. Wanting to get rid of this ability somehow and live a normal life, Watanuki is guided by a butterfly and meets Yuko, the mysterious and beautiful proprietress of a mysterious "Shop". She says, "I'll grant you any wish you want. I'll grant you any wish you want, but you must pay for it. What's the most important thing to you?..." In order to make his wish come true, Watanuki somehow ends up living with Yuko and helping her "Shop". There, he meets people with their own problems and gets involved in incidents beyond his imagination―?!
[ Official Site ]
https://xxxholic-movie.asmik-ace.co.jp
[ Contact (International) ]
Asmik Ace, Inc.
1-8-1 Marunouchi, Chiyoda-ku, Tokyo 100-0005
Attn: KATO Mai, AKASAKI Kaoru, MISHINA Marie
E-mail: https://www.asmik-ace.co.jp/contact
http://www.asmik-ace.co.jp