Tsumujikaze shokudo no yoru
The Night of Whirlwind Restaurant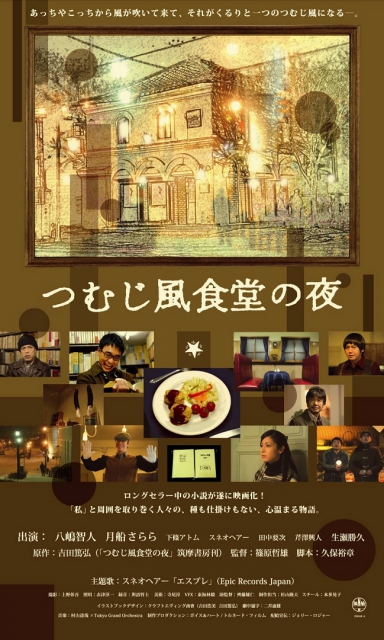 Release Date

November, 21st, 2009
Running Time

84 min
Color

Color
Screening Format

35mm
[ Directed by ]
[ Produced by ]
[ Cast ]
[ Staff ]
[ Distributor (Japan) ]
jolly roger
[ Production Studio ]
VOICE & HEART, TORNADO FILM
[ Story ]
Nostalgic fantasy drama that recreates Yoshida Atsuhiro's long selling novel, first published in 2002. Director Shinohara Testuo, whose previous works include RIDING THE METRO (Metro ni Notte), and Battle Under Orion (Manatsu no Orion) shot all locations for this film in Hokkaido Prefecture, a familiar place for the director. In the strange "Whirlwind Restaurant" in a rural Hokkaido town, the regular customers, who include the ordinary "Me," (Yashima Norito) the owner of a used bookstore called "De Niro's boss," (Tanaka Yoji) and stage actress NANATSU (Tsukifune Sarara), congregate each evening. It is there that "Me," while entertaining these singularly peculiar guests, comes to confront both himself in the past and the future.
[ Official Site ]
[ Film Festivals, Awards ]
Tokyo International Film Festival 2009 "Japanese Eyes"
[ Contact (International) ]
For further contact details, please contact UNIJAPAN -> [ Contact ]