Doraemon Nobita no Kyoryu 2006
Doraemon and the Little Dinosaur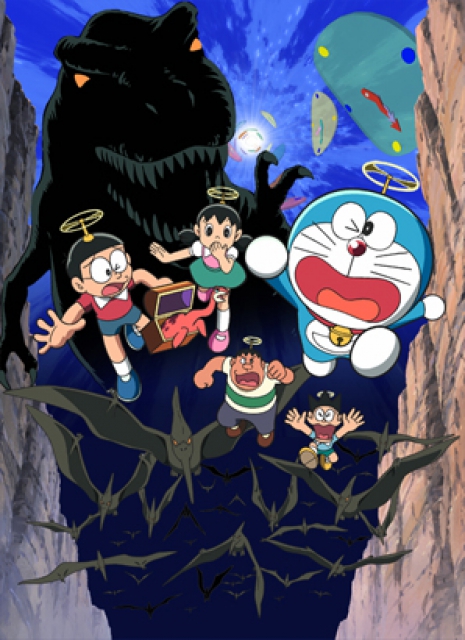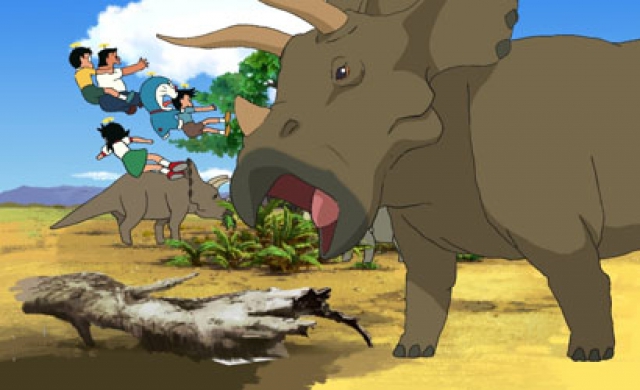 Release Date

March, 4th, 2006
Running Time

107 min
Genre
Color

Color
Screening Format

35mm
[ Directed by ]
[ Produced by ]
[ Cast ]
[ Staff ]
[ Production Company ]
FUJIKO PRO, SHOGAKUKAN, TV Asahi, ADK, Sho-pro, SHIN-EI ANIMATION
[ Story ]
The latest of the "Doraemon" series which has released a new movie every year since 1980. This is a re-make of the first movie.
As Suneo boasts about his fossil, Nobita wants to have his own dinosaur fossil. He digs a hole to search for one, and discovers an elasmosaurus's egg. When the egg hatches, he names it Pisuke and nurtures it in a closet, but as it grows too big, the town slips into turmoil. Doraemon and Nobita decide to take Pisuke back to the Cretaceous period 100 million years ago.
While they are on the move in a time machine, they get chased by dinosaur hunters and they send Pisuke by mistake to North America 100 million years ago. Nobita and Doraemon follow Pisuke and find him there, but then, their time machine breaks down and Suneo and his friends are caught by dinosaur hunters.
Doraemon and Nobita somehow manage to save them, and finally arrive in Japan 100 million years ago. What awaits them there is a flock of "Futabasaurus suzukii", the same species as Pisuke. Nobita and his friends leave Pisuke with the flock and go back to the modern day.
[ Official Site ]
[ Contact (International) ]
Shogakukan-Shueisha Productions Co., Ltd.
International Licensing, Doraemon Business Division
5F, Showa Bldg., 2-30 Kanda-Jimbocho, Chiyoda-ku, Tokyo, Japan 101-8415
tel: +81 3 3515 6836
fax: +81 3 3515 6895
http://www.shopro.co.jp/english