Death Note the Last Name
DEATH NOTE the Last name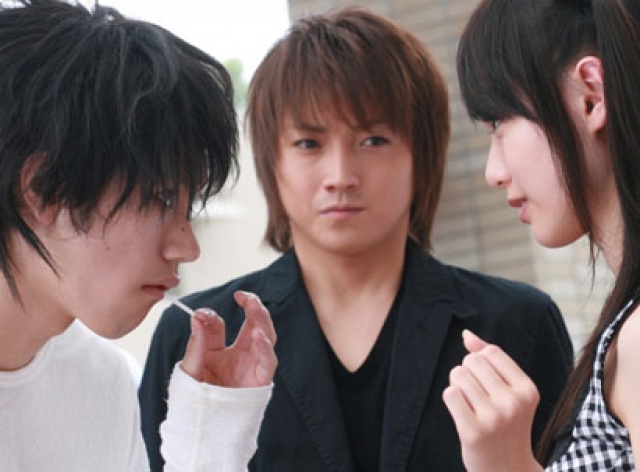 Release Date

November, 3rd, 2006
Running Time

140 min
Color

Color
Screening Format

35mm
[ Directed by ]
[ Produced by ]
[ Cast ]
[ Staff ]
[ Production Company ]
NTV, SHUEISHA, HORIPRO, YTV, VAP, KONAMI, SHOCHIKU, NIKKATSU, STV, MMT, CTV, HTV, FBS
[ Story ]
A live-action film adaptation of a comic of the same title by Ohba Tsugumi and Obata Takeshi, which appeared in the Weekly Shonen JUMP magazine series. Directed in two parts by Kaneko Shusuke. Red Hot Chili Peppers, who became fans when they read the original comic, provided the theme music for both parts of the film. A spin-off movie that features the character of "L" will be produced.
The God of Death brings a Death Note to the human world out of boredom. It is a notebook with an extraordinary power - the person whose name is written in the Note dies. Yagami Light (Fujiwara Tatsuya) picks up the Note. Since his father is the chief of the detective department, Light has a strong sense of justice. Under the name "Kira", Light exterminates vicious criminals utilizing the Note in an attempt to create a utopia by his own hand. A genius, private investigator, L (Matsuyama Kenichi), starts the investigation to capture Kira.
An unpredictable and magnificent battle of wits unfolds between one genius, Light, who wields the Death Note, and another genius, L, who is closing in on Light.
[ Film Festivals, Awards ]
Brussels International Film Festival of Fantasy Film 2007
Udine Far East Film Festival 2007
TOKYO FM ENTAMA AWARDS 2006 - Best Japanese Film
Oricon Style Entertainment of the Year 2006 - Best Japanese Film
Nikkan Sports Movie Fan Award 2006 - Best Japanese Film
DIGITAL CONTENT GRAND PRIX 2006 - Jury Award
Yokohama Film Festival 2006 - Best Newcomer
Hong Kong Yahoo Awards 2006 - Most "Searched" Movie Award
Hong Kong International Film Festival 2006 Asian Film Awards - Nominated Best Asian Film
[ Contact (International) ]
NIPPON TELEVISION NETWORK CORPORATION
Film Business Department
1-6-1 Higashi-Shimbashi, Minato-ku, Tokyo 105-7444
tel: +81 3 6215 1111
http://www.ntv.co.jp/english