Byosoku 5 centimeters
5 Centimeters per Second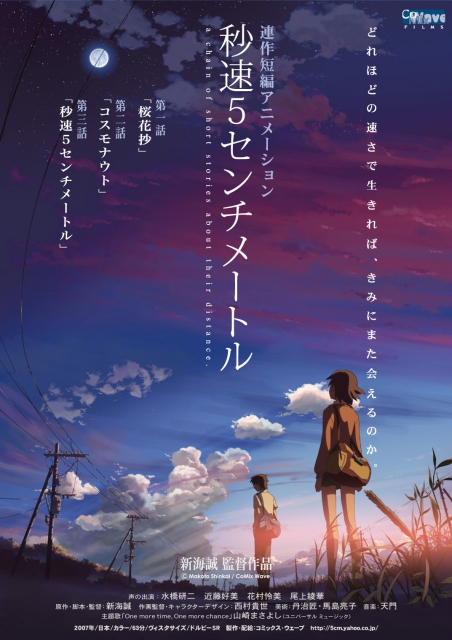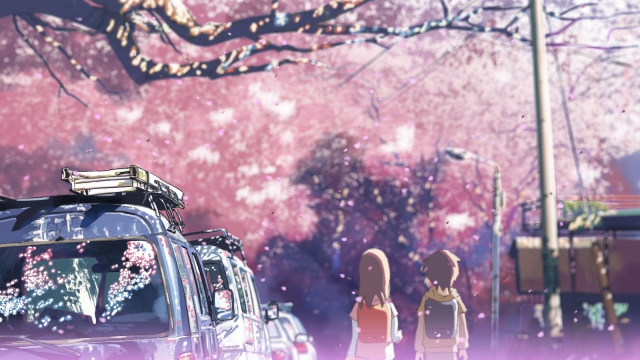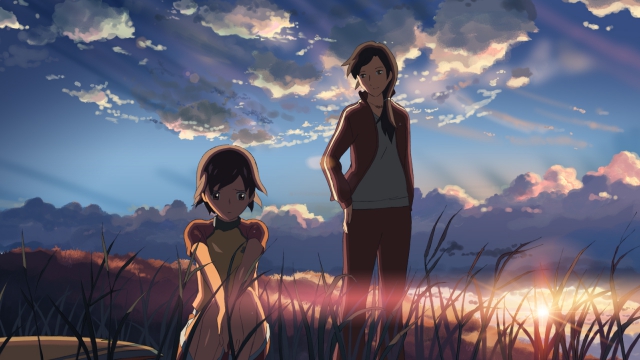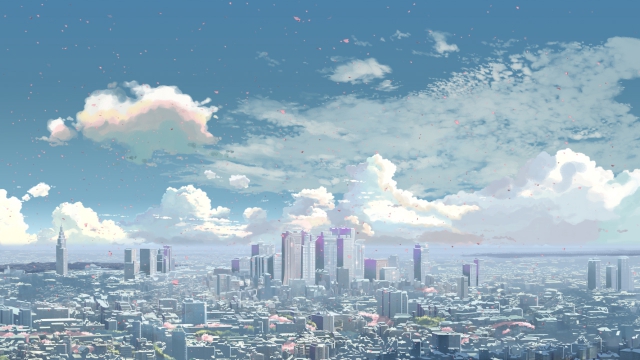 Release Date

March, 3rd, 2007
Running Time

63 min
Color

Color
Screening Format

35mm
Sound Processing

Dolby Surround
[ Directed by ]
[ Produced by ]
[ Cast ]
[ Staff ]
[ Production Company ]
CoMix Wave Films, Shinkai Creative
[ Story ]
Tono Takaki (Mizuhashi Kenji) and Sinohara Akari (Kondo Yoshimi) had been apart since they left elementary school, however, they kept in touch through correspondence as they had feelings for each other. One day in winter, Takaki left Tokyo and set off for Tochigi where Akari lives. The train is delayed by heavy snow and he is alone in his carriage, as the time ticks away. Long after the agreed meeting time, the two are finally reunited in a waiting room at a small station.
"5 Centimeters per Second", which focuses on the roving souls of Takaki and Akari in their adulthood, forms the last part of three animation series that revolve around Takaki from the 1990s to the present day. The previous parts are "Oukasho" that shows the day when Takaki and Akari meet again, and "Cosmonaut" which portrays Takaki at high school on the island of Tanegashima from the viewpoint of a girl who fancies him.
Directed by Shinkai Makoto, who made his debut in 2002 with The Voices of a Distant Star (Hoshi no Koe) which he created single handedly. His The Place Promised in Our Early Days (Kumo no Muko, Yakusoku no Basho) won various awards both in Japan and abroad, including the Mainichi Film Award in the animation section.
[ Official Site ]
[ Premiere ]
International Premiere: SICAF Seoul International Cartoon and Animation Festival 2007
[ Film Festivals, Awards ]
Asia Pacific Screeen Award 2007 Best Animated Feature Film
[ Contact (International) ]
CoMix Wave Films Inc.
5F, Ichigaya MS Bldg., 4-1-9 Kudankita, Chiyoda-ku, Tokyo 102-0073
Rep: KAWAGUCHI Noritaka (President, CEO)
Attn: SUNAMI Kazuki
tel: +81 3 3230 7021
fax: +81 3 3230 7023
E-mail: info@cwfilms.jp
http://www.cwfilms.jp