Ai no Rukeichi
Love Never to End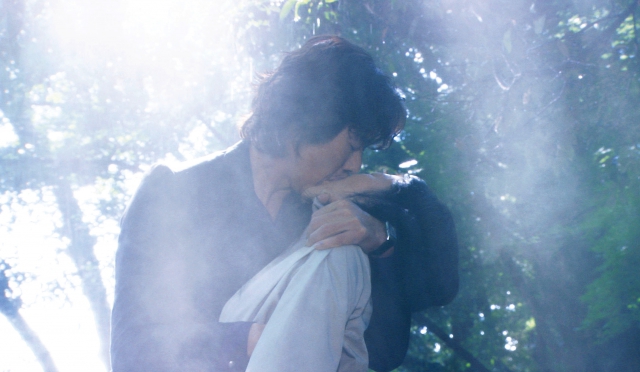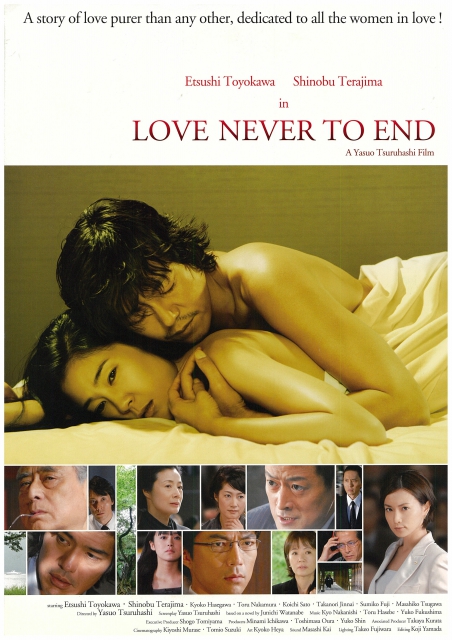 Release Date

January, 13th, 2007
Running Time

126 min
Color

Color
Screening Format

35mm
Sound Processing

Dolby Surround
[ Directed by ]
[ Produced by ]
[ Cast ]
[ Staff ]
[ Production Company ]
LOVE NEVER TO END Film Committee, TOHO, NTV, YTV, GENTOSHA, DENTSU, TOHOKUSHINSHA, Nihon Keizai Shimbun
[ Story ]
A man is arrested one morning, for having strangled a woman at the end of a love affair. His name is Murao Kikuji (Toyokawa Etsushi). The woman, Irie Fuyuka (Terajima Shinobu), is married to someone else. Murao was once well known as a best-seller writer, but has since been forgotten.
During the police interrogation Murao vividly looks back on the days he spent with Fuyuka. Murao met Fuyuka, his fan, a year ago, and they fell in love with each other. Fuyuka seemed to be having a good life with her husband and three children, but without knowing love. Fuyuka was so happy being loved by Murao that she could die there and then. She repeatedly asked Murao to kill her, and one night, Murao strangled her at her insistence.
Based on a novel by a best-seller writer, Watanabe Junichi, whose work includes "Shitsurakuen" and "Keshin". Starring Toyokawa Etsushi of Inochi and Year One in the North (Kita no Zeronen), and Terajima Shinobu of Akame 48 Waterfalls (Akame Shijuyataki Shinju Misui) and Vibrator.
[ Official Site ]
http://www.airuke-movie.com/index.html
[ Contact (International) ]
TOHO CO., LTD.
International Business Department
1-2-2 Yurakucho, Chiyoda-ku, Tokyo 100-8415
Attn: HARAGUCHI Emi
tel: +81 3 3591 3530
fax: +81 3 3591 6610
E-mail: tohointl@toho.co.jp
http://www.toho.co.jp