Café Funiculi Funicula
Coffee ga samenaiuchini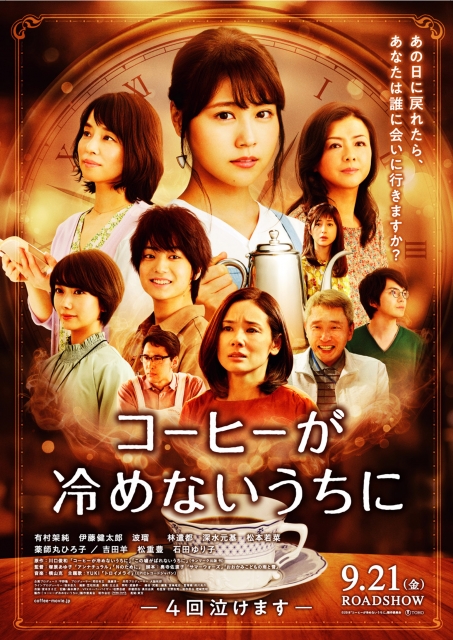 Release Date : September, 21st, 2018
Running Time : 116 min
Genre : Feature
Color : Color
Screening Format : -
Screen Size : -
Sound Processing : -

[ Directed by ] TSUKAHARA Ayuko
[ Produced by ]
[ Cast ]
[ Staff ]
[ Production Company ]
[ Distributor (Japan) ]
TOHO
[ Story ]
Café Funiculi Funicula is a coffee shop where Kazu Tokita (Kasumi Arimura) works.
There is a mysterious urban legend about this shop.
When you sit at a certain table here, you can go back in time to any point you choose in the past.
But there are also some uncompromising rules.
1) No matter what you do in the past, it won't change the present or future.
2) If a customer is seated at the table, you must wait until they leave before sitting at the table.
3) You can only go back in time from when your coffee is poured into your cup and until it gets cold. You must drink it all while it's hot.
4) When you go back to the past, you may not leave the coffee shop.
5) When you go back to the past, you can only meet people who have visited the coffee shop.

When all the rules are met, the customers of Funiculi Funicula are sure to experience a heart-warming miracle.
"Please let me go back to that day."
As usual, the coffee shop is visited by its regular customers and new ones drawn there by their curiosity about the mysterious rumor.
Fumiko Kiyokawa (Haru), a businesswoman in her late 20s who is skeptical about the rumor but goes anyway. Kayo Koutake (Hiroko Yakushimaru) and Yasunori Fusagi (Yutaka Matsushige), regulars who seem to have some secrets. Yaeko Hirai (Yo Yoshida), who evades her little sister for some reason. The mysterious woman (Yuriko Ishida), the customer who is always seated first at the table that takes you back in time.
Ryosuke Shintani (Kentaro), who starts falling for Kazu Tokita. Kazu, the only person who can brew the coffee that takes you back in time, is prompted by Ryosuke to face her own secret past.
These four tales about family, love and regret, are sure to move you to tears four times.
[ Official Site ]
[ Contact (International) ]
TBS (Tokyo Broadcasting System Television, Inc.) Global Business Department, Media Business Division
17F, 5-3-6 Akasaka, Minato-ku, Tokyo 107-8006
Attn: International Movie Sales
tel: +81 3 5571 3085
fax: +81 3 3505 1584
E-mail:
http://www.tbscontents.com