Chiwawa
Chiwawachan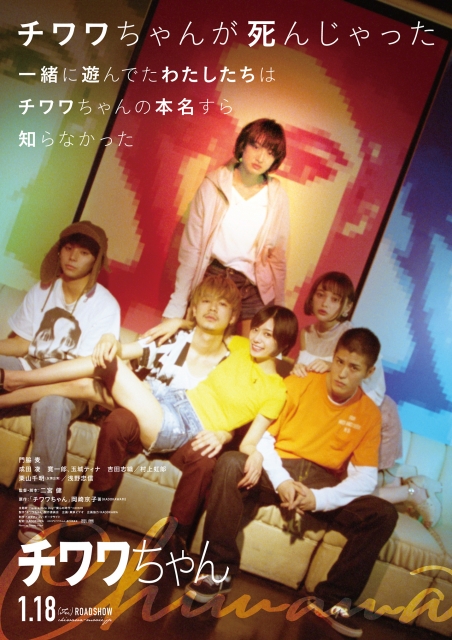 Release Date : January, 18th, 2019
Running Time : 104 min
Genre : Drama , Feature
Color : Color
Screening Format : DCP
Screen Size : -
Sound Processing : -

Screening Format with Subtitles
[ Directed by ] NINOMIYA Ken
[ Produced by ]
[ Cast ]
[ Staff ]
[ Production Company ]
[ Distributor (Japan) ]
KADOKAWA
[ Story ]
When a dead girl found in Tokyo Bay is identified as Yoshiko Chiwaki—a 20-year-old nursing student—Miki is unaware that it's her friend Chiwawa. After all their time together, Miki didn't even know Chiwawa's real name.
Miki first met Chiwawa when she was having fun with a group of friends at their favorite bar where Yoshida brought along Chiwawa as his new girl. Miki had once dated Yoshida so she wasn't all that happy about Chiwawa turning up.
Later on in the night, Chiwawa and the group of friends steal six million yen from some businessmen at the bar. After knowing the businessmen had been arrested on bribery charges which frees them up to spend the money, 9 young people dance in joy and take a holiday. They party every day and night, spend the summer of their lives but the money's gone in just 3 days. While they have to go back to their regular lives, only Chiwawa seems reluctant to stop partying. Her life changes drastically when she takes up Instagram after seeing how many followers Miki has. Her modeling career takes off and photos of her are all over the city. Her life goes in a different direction to her friends.
After Chiwawa's dismembered body was found in Tokyo Bay, the friends meet up again at the bar for the first time in many months, and Miki is left wondering about who Chiwawa really was and what she wanted from life. Chiwawa was always smiling but looked lonesome, had slept with many boys and even became a porn actress after her modeling career. She had big boobs and was somehow silly… "After all, what do we know about Chiwawa?" Miki feels personally driven to learn more about her, and starts asking each of her friends about their relationship with Chiwawa. Little does she know that she'll stumble across the unexpected truth.
[ Official Site ]
[ Contact (International) ]
KADOKAWA CORPORATION International Sales
2-13-12 Fujimi, Chiyoda-ku, Tokyo 102-8552
Rep: MATSUBARA Masaki (President)
Attn: SUZUKI Asako
tel: +81 3 6893 3603
fax: +81 3 6893 3607
E-mail: suzuki-as@kadokawa.jp
http://www.kadokawa.co.jp