Honey lemon soda
HONEY LEMONSODA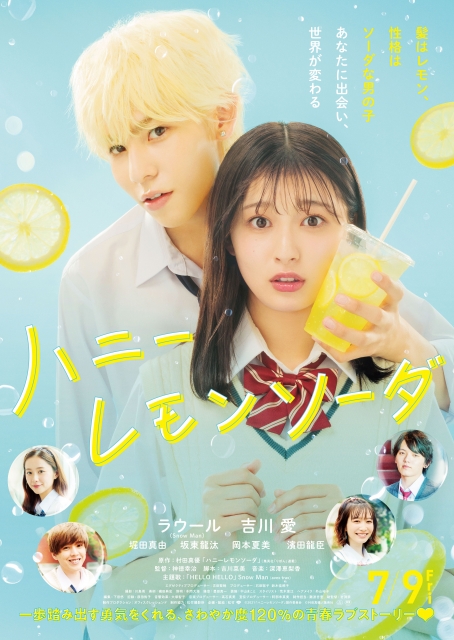 Release Date

July, 9th, 2021
Running Time

111 min
Color

Color
Screening Format

DCP
Screening Format with Subtitles

English (Blu-ray)
[ Directed by ]
[ Cast ]
[ Story ]
His hair is yellow like lemon, his personality, fizzy like soda. Meeting him has changed my world. The "real me" is taking flight…
In middle school, the shy and reserved Uka Ishimori was bullied and nicknamed "Stone." Determined to reinvent herself, she opts for a more liberal high school. There, she meets Kai Miura, a boy with lemon-colored hair. Kai is actually the reason she chose this school.
The popular and carefree Kai seems indifferent to everything. No one knows what he's thinking, but for some reason, he's taken it upon himself to look after Uka, calling himself "her guardian." They grow closer as Uka's attraction to Kai deepens and Kai is drawn to her earnestness. He's experiencing feelings he's never had before. But Kai is harboring a secret…
As they grapple with love and friendship, the lives of Kai, Uka and their friends begin to change and take flight!
[ Contact (International) ]
SHOCHIKU CO., LTD.
International Sales & Licensing
13F, Togeki Bldg., 4-1-1 Tsukiji, Chuo-ku, Tokyo 104-8422
tel: +81-3-5550-1623
fax: +81-3-5550-1654
E-mail: ibd@shochiku.co.jp
http://www.shochikufilms.com