Kasokeki sankayo
Skeleton Flowers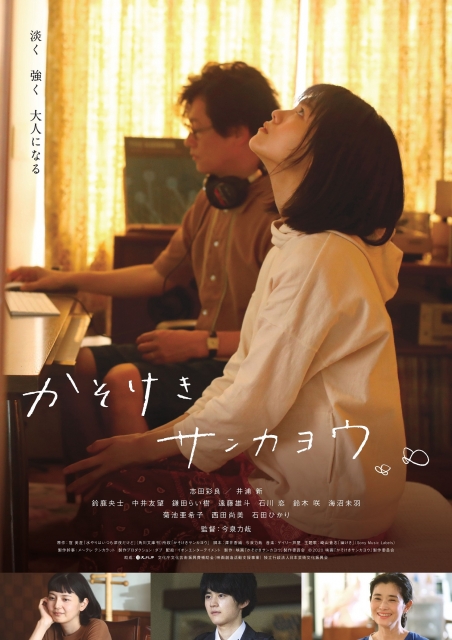 Release Date

October, 15th, 2021
Running Time

105 min
Color

Color
Screening Format

-
[ Directed by ]
[ Cast ]
[ Staff ]
[ Story ]
Yo lives with her father, after her mother left them when she was 3 years old.
When Yo's friend Riku, who has feelings for her, asked her what's her oldest memory, she remembers that her mother talked to her trying to show a flower "umbrella leaf", but Yo couldn't see it being hidden behind her mother's back. She doesn't hate the mother, it's because she doesn't know her enough to have that feeling.
Right after Yo passed high school entrance exam, her father says to her, "I'm seeing someone. I'd like to marry her". A life with the stepmother and her little daughter started. One day Yo visits to an exhibition of painting of her biological mother. But she gets disappointed soon because the mother doesn't even recognize her. Her father tells her the reason why the mother left them and Yo decides to see her in person for the first time.
Meanwhile, Riku, who has abnormal heart condition from his birth, which causes complexed relationship between his mother and his grandmother from father's side. He gradually feels an inferiority complex against Yo who gets along well with her new family life and tends to spend more time with another girl, Saki, who also has problem with her family...
[ Contact (International) ]
Nagoya Broadcasting Network Co.,Ltd.
Contents Business Division
8F, 5-9-8 Ginza, Chuou-ku, Tokyo 104-0061
Attn: KATO Yu, ITO Ayako
tel: +81 3 3571 7185
fax: +81 3 3574 6169
E-mail: ykato@nbn.co.jp , aito@nbn.co.jp