Nagi no shima
Nagi's Island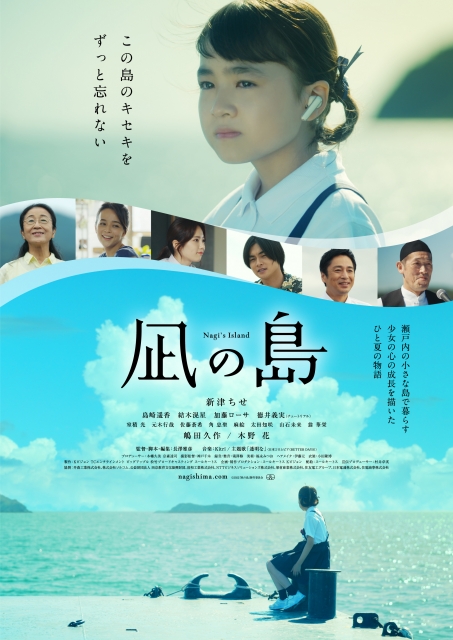 Release Date

August, 19th, 2022
Running Time

107 min
Color

Color
Screening Format

-
[ Directed by ]
[ Cast ]
[ Staff ]
[ Story ]
The concept of "family" as seen through the eyes of a young girl.
A coming-of-age story of a girl nurtured in the gentle nature and light of Setouchi.
Following her parents' divorce, fourth grader Nagi (Chise Niitsu) moves with her mother, Mao, to her hometown on a small island in Setouchi in Yamaguchi Prefecture where her grandmother, Yoshiko, runs the only clinic. On the surface, Nagi appears cheerful and carefree but at times, traumatic visions of her alcoholic father Shimao abusing her mother trigger panic attacks, causing her to hyperventilate. The residents of the island are aware of her condition, but accept her warmly without judgment. Her classmates Raita and Kengo, her teacher Mizuki, the school caretaker Yamamura and the local fisherman Kohei all carry their own emotional burdens but strive to live positively. When Nagi learns of their troubles, she tries her best to support them while slowly regaining her ability to smile. But her peaceful days are disrupted when her father makes an unexpected visit to the island claiming he wants to live with them again. What will Nagi do?
[ Official Site ]
[ Contact (International) ]
Nikkatsu Corporation
International Sales
3-28-12 Hongo, Bunkyo-ku, Tokyo 113-0033
Attn: KAWAI Emico, FURUKAWA Mami, KATO Taku, SUNG Tzwei
tel: +81 3 5689 1014
fax: +81 3 5689 1044
E-mail: international@nikkatsu.co.jp
https://intl.nikkatsu.com