Yomei ikkagetsu no hanayome
April Bride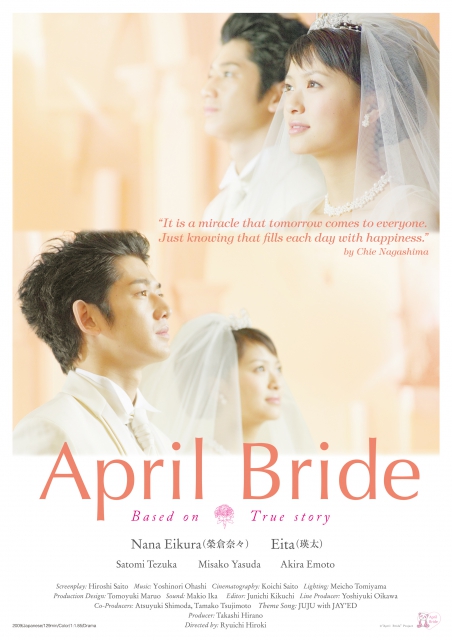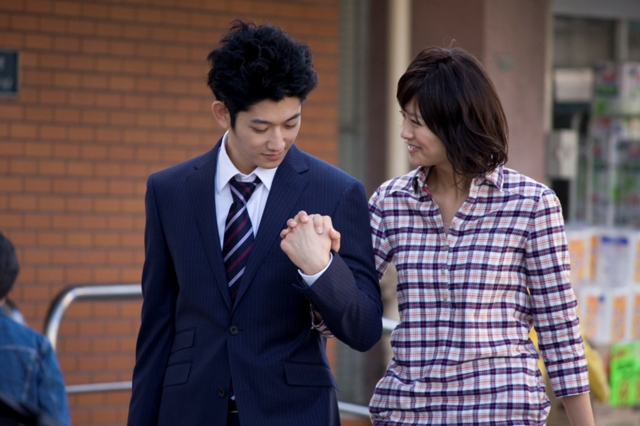 Release Date

May, 9th, 2009
Running Time

129 min
Genre
Color

Color
Screening Format

35mm
Screen Size

American Vista (1:1.85)
Sound Processing

Dolby Digital
[ Directed by ]
[ Produced by ]
[ Cast ]
[ Staff ]
[ Production Company ]
"April Bride" Project
[ Distributor (Japan) ]
TOHO
[ Story ]
This film is an all-star cast love story inspired by a true story that aired as a documentary on TBS and subsequently became a bestseller upon its publication in a
book form. Based on the life story of Nagashima Chie, who died of breast cancer in May 2007 at the age of twenty-four, the film depicts dedication and love of her boyfriend and her family in a clean visual style. The film, directed by Hiroki Ryuichi of Vibrator , was shot in sequence faithfully depicting the emotions of a young couple together as they confront the illness and endeavor to brighten their remaining days as they go through their wedding.
Chie (Eikura Nana), an event companion, meets Taro (Eita) at a convention who asks
her to become his girlfriend. Having been diagnosed with breast cancer, Chie first hesitates, and tells him about her illness. She disappears after saying good bye. Taro
tracks her down, finds her in Yaku Island, and swears to support her battle against cancer. Touched by his sincerity, Chie decides to go into therapy out of her desire to spend life together with Taro.
[ Official Site ]
[ Contact (International) ]
TBS (Tokyo Broadcasting System Television, Inc.)
International Distribution Department, Movie and Animation Production Department
17F, 5-3-6 Akasaka, Minato-ku, Tokyo 107-8006
Attn: International Movie Sales
tel: +81 3 5571 3085
fax: +81 3 3505 1584
http://www.tbscontents.com