BACK STREET GIRLS: GOKUDOLS
Back street girls Gokudols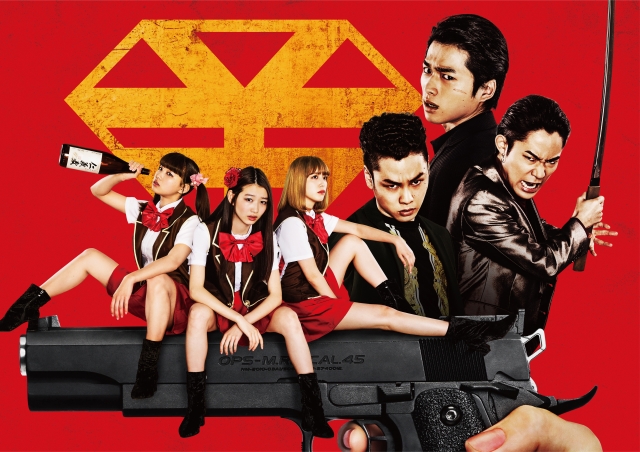 Release Date : February, 8th, 2018
Running Time : 87 min
Genre : Feature
Color : Color
Screening Format : -
Screen Size : -
Sound Processing : -

[ Directed by ] HARA Keinosuke
[ Produced by ]
[ Cast ]
[ Staff ]
[ Production Company ]
BACK STREET GIRLS: GOKUDOLS Film Partners
[ Distributor (Japan) ]
TOEI
[ Story ]
"In our hearts, we will always be yakuza! Men among men! Please accept us as we are!" shout Kentaro Yamamoto, Ryo Tachibana and Kazuyoshi Sugihara in unison as members of both the Inukane yakuza syndicate and an adorably cute and effervescent idol trio. Once society rejects, the boys were saved by the crime syndicate to whom they feel a strong sense of duty and obligation, vowing to live "as men", "be manly" and "work for the syndicate". But when they botch things up for the syndicate, the boss has them undergo sex change operations in Thailand and proclaims: "From today, you three are pop idols! Rise in the entertainment world and make loads of money!" Transformed into beguilingly attractive women on the outside, the three remain alpha male ruffians on the inside, spawning a host of life-defining challenges!

"We are yakuza!"
"So how the hell did we end up doing this?"
"I want my manhood back!"

Can these three male hoods now live "as women", "be cute" and "work for the syndicate"? Find out in this yakuza-slash-teen idol movie the likes of which have never been seen in cinematic history. A new idol legend begins.
[ Official Site ]
[ Contact (International) ]
TOEI COMPANY, LTD.
3-2-17 Ginza, Chuo-ku, Tokyo 104-8108
Attn: International Sales & Acquisitions
tel: +81 3 3535 7621
fax: +81 3 3535 7622
E-mail: international@toei.co.jp
http://www.toei.co.jp/en