Nakuna akaoni
Don't Cry, Mr.Ogre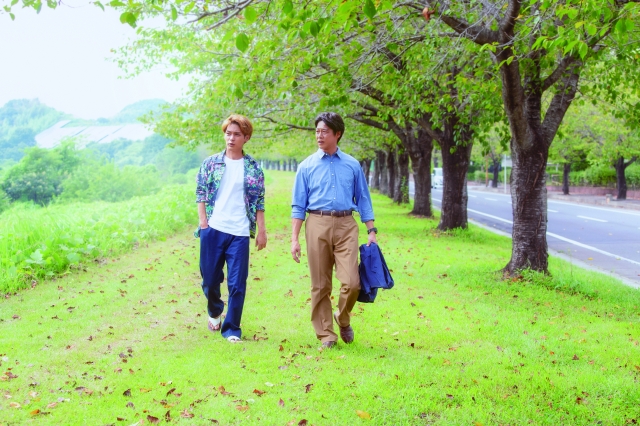 Release Date

June, 14th, 2019
Running Time

111 min
Genre
Color

Color
Screening Format

-
[ Directed by ]
[ Produced by ]
[ Cast ]
[ Staff ]
[ Production Company ]
[ Distributor (Japan) ]
KADOKAWA
[ Story ]
Obuchi, aka "Akaoni," is a high school teacher who has also coached his school's baseball team for years. His nickname, meaning "red ogre" in Japanese, came from his suntanned dark-reddish face and also because his method of coaching was brutal like an ogre. There was a time his hard training proved effective and his team nearly qualified for the National High School Baseball Championship. But this dream ended up never being realized.
Ten years has passed, Akaoni is now a tired, middle-aged man in his fifties. One day, he runs into a former student, Saito, aka "Golgo", who used to play on the school team. When he first joined, Akaoni had high hopes for his future because of his talent for baseball, but Golgo ended up quitting the team, deserting his teammates and coach who strove to qualify for the national Championship. However, Saito is now in his late twenties and has grown into a responsible adult. Formerly a flippant teen who lacked perseverance, he is now married with a son and has even grown to express concern for others, though his flippant nature still remains the same.
When Akaoni finds out Golgo has been diagnosed with cancer and has only few months left to live, Akaoni decides to help Golgo getting over with his unfinished business. Akaoni's new phase of life was about to begin through his encounter with and loss of an unforgettable former student.
[ Official Site ]
[ Contact (International) ]
KADOKAWA CORPORATION
International Sales
2-13-12 Fujimi, Chiyoda-ku, Tokyo 102-8552
Rep: MATSUBARA Masaki (President)
Attn: FURUTSUKI Etsuko
tel: +81 50 1746 1220
E-mail: furutsuki-e@kadokawa.jp
http://www.kadokawa.co.jp