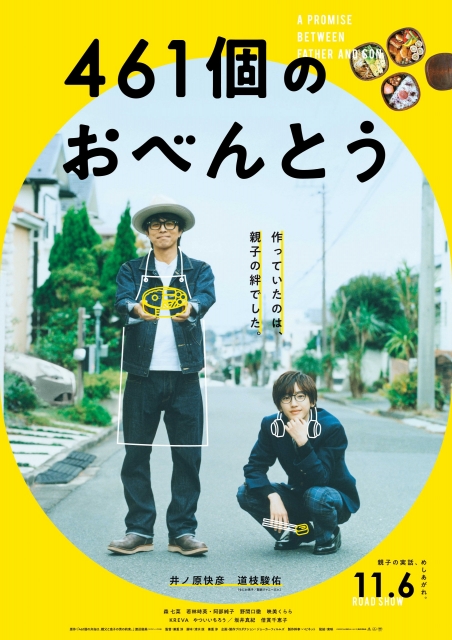 Release Date

November, 6th, 2020
Running Time

119 min
Color

-
Screening Format

-
[ Directed by ]
[ Produced by ]
[ Cast ]
[ Staff ]
[ Production Company ]
[ Distributor (Japan) ]
TOEI
[ Production Studio ]
JOKER FILMS
[ Story ]
Kazuki Suzuki (Yoshihiko Inohara) has divorced his wife of many years. His son Koki (Shunsuke Michieda) decided to go with his father, but because he's at the sensitive age of 15, Kazuki is wracked with guilt that he may have ruined his son's life. To make things worse, almost immediately afterwards Koki fails his high school entrance exams.
Kazuki had always been a free spirit, who'd told Koki that there was more to life than school, and that he should focus on his own happiness. But Koki's decision was that he wanted to go to high school. And in spring of the next year, he successfully passes his exams.
Kazuki asks him a question: "What do you want to do for lunch at school? Do you want me to give you money for the cafeteria, or would you rather I make it for you?" "I want you to make lunch for me, dad."
From this moment was born an important promise: one of them would go to school every day without a single absence, and the other would make him a homemade meal for every single lunch for his entire time in high school.
These lunches become a point of interaction throughout their busy lives. Even on days after concerts, days when he's hung over, or days when he has to work early… Kazuki's lunch-making frenzy is about to begin.
[ Official Site ]
[ Contact (International) ]
HAKUHODO DY MUSIC & PICTURES (SHOWGATE INC.)
International Sales Group
7F, S-GATE Akasaka, 6-2-4 Akasaka, Minato-ku, Tokyo 107-0052
Rep: KAWAKAMI Junpei
Attn: SHIBATA Atsumi
tel: +81 3 6441 9696
fax: +81 3 6441 7965
E-mail: isales@hakuhodody-map.jp
http://www.hakuhodody-map.jp