Tokyo paralympics Ai to eiko no saiten
Tokyo Paralympics, Festival of Love and Glory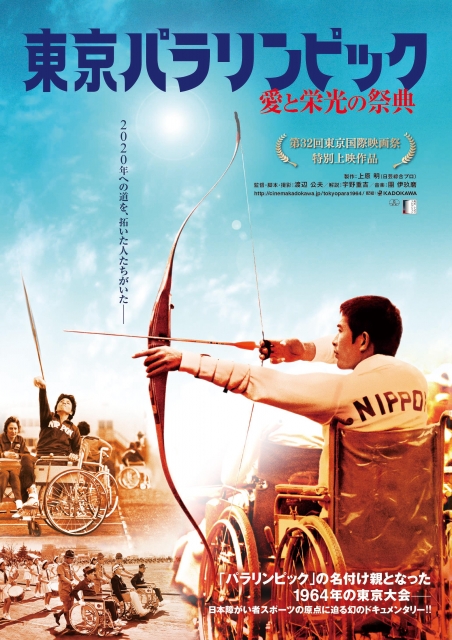 Release Date

May, 15th, 1965
Running Time

63 min
Genre
Color

Monochrome
Screening Format

-
[ Directed by ]
[ Staff ]
[ Distributor (Japan) ]
KADOKAWA
[ Production Studio ]
DAIEI
[ Story ]
In 1964, the Tokyo Olympics had concluded successfully and the city was returning to its normal self. Meanwhile, another sports event, invested with significance, was about to start. This was the "Tokyo Games for the Physically Handicapped," as it was known at the time. The first part of the Games was an international meet for paraplegic wheelchair users, also nicknamed the "Tokyo Paralympics."
At a rehabilitation center for disabled people, wheelchair users hone their athletic skills as they prepare to participate in the Paralympics. They are people who had been in a traffic accident, injured in war, or paralyzed from the waist down because of an illness, and each of them recounts their story. But they all look enthusiastic and positive as they engage in sports.
Just before the Games, Dr. Ludwig Guttmann is seen arriving in Japan along with the athletes of other countries. The international athletes are all bright and cheerful and, by interacting with them, the Japanese athletes strengthen their hopes of rejoining society, although they also become aware of the differences in the welfare systems of their countries. The Tokyo Paralympics then opens with the then Crown Prince Akihito and Crown Princess Michiko of Japan in attendance. Once the Games begin, the friendly atmosphere changes with the athletes putting on a more serious face as they compete. While the 1964 Tokyo Games may not be about superhuman physicality as in recent Paralympic Games, it still showcases the athletes' fortitude as they push themselves beyond their limits. The Tokyo Paralympics then finally comes to an end with all of the athletes from around the world holding hands and singing together in the closing ceremony.
[ Contact (International) ]
KADOKAWA CORPORATION
International Sales, Literature and Movie Group
2-13-3 Fujimi, Chiyoda-ku, Tokyo 102-8177
Rep: NATSUNO Takeshi (President)
Attn: MORI Chiyo
tel: +81 50 1746 1220
E-mail: mori-c@kadokawa.jp
http://www.kadokawa.co.jp