Gekijoban Signal Choki mikaiketsujiken sosahan
Signal: Long-Term Unsolved Case Investigation The Movie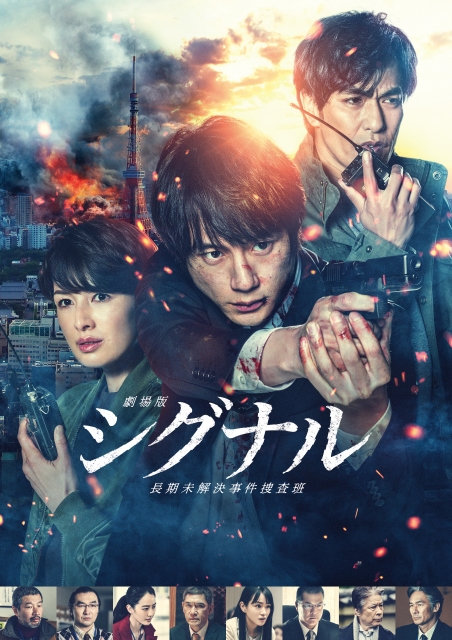 Release Date

April, 2nd, 2021
Running Time

122 min
Genre
Color

Color
Screening Format

-
[ Directed by ]
[ Produced by ]
[ Cast ]
[ Staff ]
[ Production Company ]
Kansai Television, Fuji Television Network, Tristone Pictures, Dentsu, Toho, FNS26 presentation
[ Distributor (Japan) ]
TOHO
[ Production Studio ]
Tristone Pictures
[ Story ]
Connected by a walkie-talkie.
Detectives from the Past and Present finally…
Tokyo 2021. A high-ranking government official is killed when his chauffeur loses control on an expressway. Kento Saegusa, and Sergeant Sakurai (Michiko Kichise) from the Cold Case investigation unit begin to suspect it was far from accidental. Meanwhile, in 2009, parliamentary officials are dying in a succession of fatal car crashes. While the police write them off as accidents, Oyama is the only one convinced of foul play.
At 11:23pm, the device that shouldn't work connects them once more.
To save Japan from the threat of bioterrorism, the past and present must confront a dark web of conspiracy and lies.
Perhaps they will reunite in the present once more?
[ Contact (International) ]
FUJI CREATIVE CORPORATION
International Department
18F, DiverCity Tokyo Office Tower, 1-1-20 Aomi, Koto-ku, Tokyo 135-0064
tel: +81 3 6865 1988
fax: +81 3 6865 1977
E-mail: intlsales@fujicreative.co.jp
http://www.fujicreative.co.jp/intldept