Boku no hero academia The movie World heroes mission
My Hero Academia The Movie 3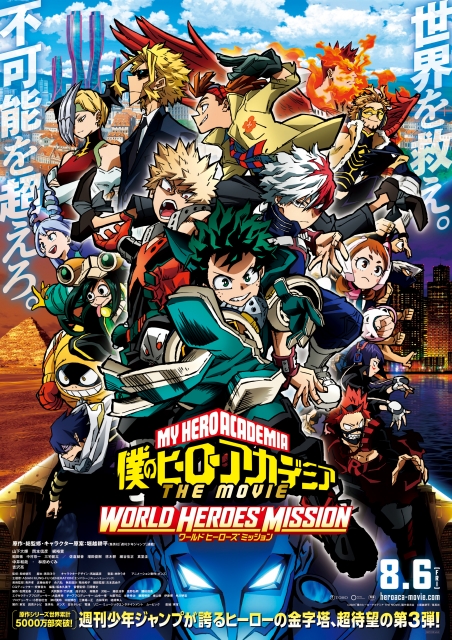 Release Date

August, 6th, 2021
Running Time

101 min
Genre

Drama , Action , Action/Adventure , Animation
Color

Color
Screening Format

-
[ Directed by ]
[ Cast ]
[ Staff ]
[ Distributor (Japan) ]
TOHO
[ Production Studio ]
bones
[ Story ]
Izuku Midoriya (aka Deku), a student in Class1-A at U.A. Highschool is interning for No. 1
Pro Hero Endeavor along with his classmates Katsumi Bakugo and Shoto Todoroki, when they receive intel that the Global Ideology Group, Humarize, is developing a drug called Trigger Bomb. While the drug enhances a Quirk in an individual, it also brings out lethal and hostile behaviors. An
International Hero Team is quickly assembled and Deku's Team Endeavor is dispatched to Oseon where Humarize headquarter is based. At Oseon, Deku, Bakugo and Todoroki encounters Rody, a boy of similar age Rody is framed for a robbery and by involving Deku they both become wanted by the Oseon police. Together they flee. Through their deadly escape the two bond and in sharing their past inspire each other to fulfill their calling. Before long, Bakugo and Todoroki join the two but evil clutches of the mysterious organization draws near. Concurrently, Humarize threatens that it has planted trigger bombs in 25 global locations. The heroes only have two more hours until the bomb detonates. As the International Hero Team work to prevent the bombs from going off in each country, Deku, Rody, Bakugo and Todoroki must figure out what Humarize is conspiring. What does Humarize want, and can Deku and Rody stop a worldwide terrorist attack?
[ Official Site ]
[ Contact (International) ]
TOHO CO., LTD.
International Business Department
1-2-2 Yurakucho, Chiyoda-ku, Tokyo 100-8415
Attn: HARAGUCHI Emi
tel: +81 3 3591 3530
fax: +81 3 3591 6610
E-mail: tohointl@toho.co.jp
http://www.toho.co.jp