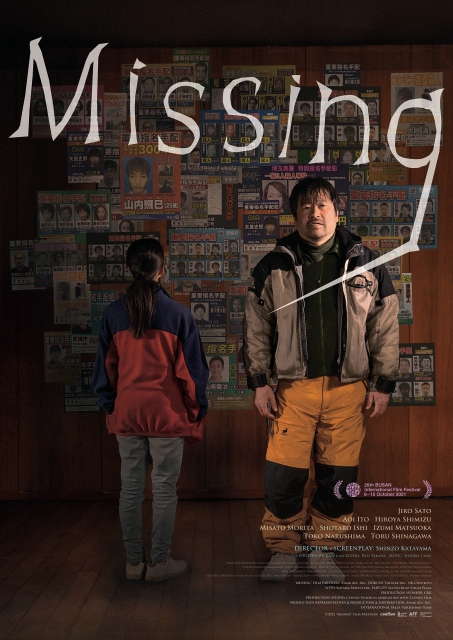 Release Date

January, 21st, 2022
Running Time

123 min
Color

Color
Screening Format

-
[ Directed by ]
[ Produced by ]
[ Cast ]
[ Staff ]
[ Production Company ]
"Missing" Film Partners
[ Distributor (Japan) ]
Asmik Ace
[ Production Studio ]
L'ESPACE VISION
[ Story ]
Satoshi Harada and his daughter, Kaede live a peaceful life in a working-class neighborhood in Osaka. Satoshi tells Kaede, "I saw the serial killer who is wanted by the police. If I caught him I'd get a three-million-yen reward." Kaede shrugs this off. Dad's goofing around as usual... Then he disappears the next morning.
Left on her own, fearful Kaede looks for her father. The police are dismissive and tell her that most missing adults aren't found. Her pursuit continues until she hears that Satoshi Harada works at a local construction site. She visits the site and calls out to him. A young man responds to her father's name. He has the same identity but Kaede doesn't know who he is.
Devastated and confused Kaede notices a poster on a wall of a wanted man. A picture of the young serial murderer looks an awful lot like the man she met at the construction site...
[ Official Site ]
https://sagasu-movie.asmik-ace.co.jp
[ Film Festivals, Awards ]
2021 Busan International Film Festival, New Currents, OFFICIAL SELECTION
[ Contact (International) ]
Asmik Ace, Inc.
1-8-1 Marunouchi, Chiyoda-ku, Tokyo 100-0005
Attn: KATO Mai, AKASAKI Kaoru, MISHINA Marie
E-mail: https://www.asmik-ace.co.jp/contact
http://www.asmik-ace.co.jp