Wedding high
Wedding High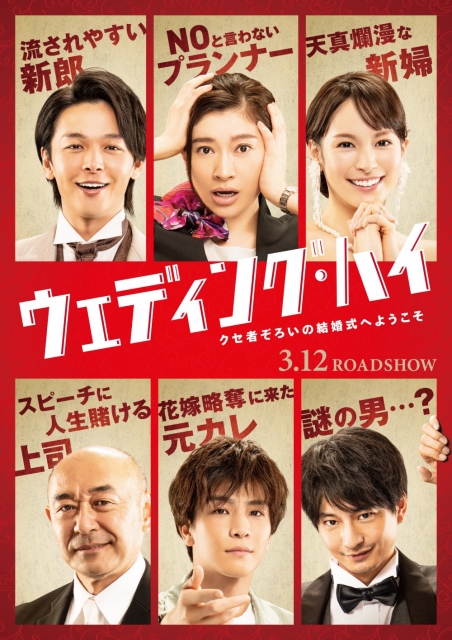 Release Date

March, 12th, 2022
Running Time

117 min
Color

Color
Screening Format

DCP
[ Directed by ]
[ Cast ]
[ Story ]
What's the biggest event for a couple? A wedding! The goofy but earnest Akito Ishikawa and the always cheerful Haruka Nitta are about to tie the knot. Thanks to the help of their wedding planner Nakagoshi, they've finally made it to the day of the wedding.
However, it wasn't just the bride and groom who were preparing for the biggest day of their lives. The guests, too, pour their heart and soul into creating a video for the wedding, preparing speeches and toasts, and all sorts of performances. However, they get a little too passionate, and the wedding goes spinning out of control…
After hearing the couple's cry for help, Nakagoshi and other staff go all out to help them overcome various obstacles, but the wedding is crashed by Haruka's ex and uninvited guests! Will the brilliant wedding planner who makes everything possible be able to solve all the problems and present the best wedding for the couple?
[ Official Site ]
https://movies.shochiku.co.jp/wedding-high-movie/
[ Contact (International) ]
SHOCHIKU CO., LTD.
International Sales & Licensing
13F, Togeki Bldg., 4-1-1 Tsukiji, Chuo-ku, Tokyo 104-8422
tel: +81-3-5550-1623
fax: +81-3-5550-1654
E-mail: ibd@shochiku.co.jp
http://www.shochikufilms.com