Koi wa hikari
Koi wa hikari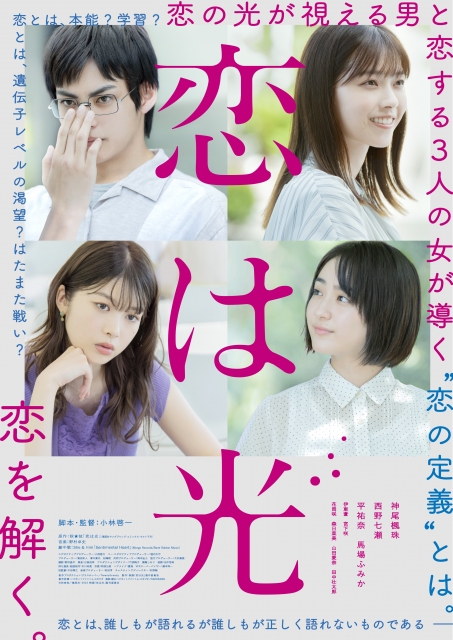 Release Date

2022
Running Time

111 min
Color

Color
Screening Format

DCP
[ Directed by ]
[ Cast ]
[ Staff ]
[ Distributor (Japan) ]
Happinet Phantom Studios, KADOKAWA
[ Production Studio ]
Grasshoppa!, NeedyGreedy
[ Story ]
"I want to know what love is..."
Saijo (Fuju Kamio) has an ability to see special glow around women who are in love. Kitashiro (Nanase Nishino), his childhood friend, the only person that knows about his ability,
has had a crush on him most of her life, but Saijo tells her that she doesn' t emit light around him which leaves her at a loss. Meanwhile, their classmate Yadorigi (Fumika Baba), who has a habit of liking guys belonging to other women, mistakes Saijo as Kitashiro' s boyfriend and makes a move on him.
One day, Saijo accidentally sees a notebook that belongs to Shinonome (Yuna Taira), a girl who is trying to explore the meaning of love. They start an exchange diary to discuss the topic, but Kitashiro feels uncomfortable watching them deepen their relationship. And when Yadorigi sees this, she decides that she too wants to start an exchange diary with them.
[ Official Site ]
https://happinet-phantom.com/koihahikari/
[ Contact (International) ]
Happinet Phantom Studios Corp (formerly Phantom Film Co., Ltd.)
International Acquisitions and Sales
9F, A-PLACE Yoyogi Bldg., 5-23-15 Sendagaya, Shibuya-ku, Tokyo 151-0051
Rep: KONISHI Keisuke
Attn: HATANO Rie
tel: +81-3-6862-0361
fax: +81-3-6862-0363
E-mail: rie.hatano@hsn.happinet.co.jp
https://happinet-phantom.com