Taiyo to bolero
SUN AND BOLERO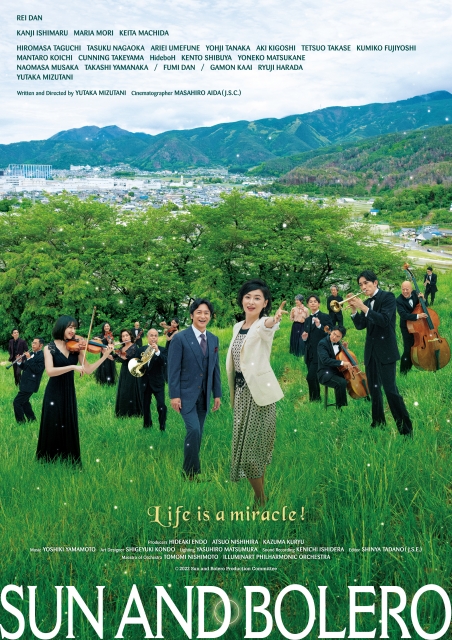 Release Date

June, 3rd, 2022
Running Time

133 min
Color

Color
Screening Format

-
[ Directed by ]
[ Cast ]
[ Staff ]
[ Distributor (Japan) ]
TOEI
[ Story ]
Riko Hanamura (Rei Dan) is in high gear, all for the Yayoi Symphony Orchestra, a semi-amateur group with an 18-year history.
Following the sudden death of her father, Riko abandoned her dreams of becoming a pianist and returned to her hometown to care for her mother (Fumi Dan). Here she is an organizer of the Yayoi Symphony Orchestra, a dream which sustains her through harsh reality. Todo (Yutaka Mizutani), a college instructor of Riko's, has served as the orchestra's conductor, but its audiences have been declining over the past three years and it is becoming more and more difficult to keep it going. With Tsuruma (Kanji Ishimaru), who has supported the orchestra since its foundation, Riko has sought sponsorship from such bodies as government or local financial institutions, but this sort of cooperation is becoming difficult to find.
Now, during a concert, Todo starts coughing blood. A growing sense of individuality produces discordant notes among some of the orchestra members, affecting its greater overall unity.
Riko decides to dissolve the orchestra, but proposes a farewell concert. Younger members such as Keisuke (Keita Machida) and Akari (Maria Mori) struggle to unite the other orchestra members, all of whom love music, but unity once lost is difficult to restore.
But just as everyone has decided that there is no remedy for the situation into which the orchestra has fallen, and is about to abandon the idea of a farewell concert, a video letter arrives from the hospitalized Todo, bearing news of a minor miracle.
As the sun disappears into the western sky, the magic hour begins. To the strains of "Bolero", the Yayoi Symphony Orchestra begins its last and best concert.
[ Official Site ]
[ Contact (International) ]
TOEI COMPANY, LTD.
International Sales & Acquisitions
3-2-17 Ginza, Chuo-ku, Tokyo 104-8108
tel: +81 3 3535 7621
fax: +81 3 3535 7622
E-mail: international@toei.co.jp
http://www.toei.co.jp/en