Ring wandering
Ring Wandering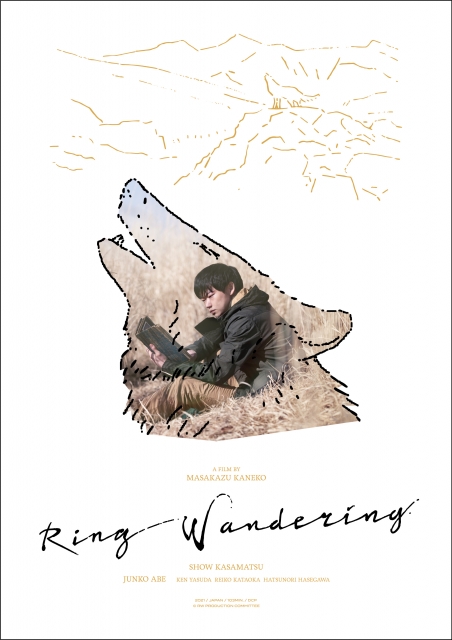 Release Date

February, 19th, 2021
Running Time

103 min
Color

Color
Screening Format

DCP
[ Directed by ]
[ Produced by ]
[ Cast ]
[ Staff ]
[ Story ]
In Downtown Tokyo, a young man Sosuke aspires to be a manga artist.
His current work is about a battle between a hunter and a Japanese wolf. He can't draw the extinct wolf well, neither develop the story.
One winter's day, Sosuke finds burnt animal's skull while digging foundations at a construction site. He is a day laborer to make a living. Is it a Japanese wolf's skull? Sosuke takes it home without permission. Looking on the Internet, he can't get a clue if this is a skull of
a Japanese wolf. His interest peaks and he sneaks into the construction site at night to find other pieces of bones, which may help him draw the Japanese wolf.
Unusual in winter, fireworks display tonight.
Without finding any bones, Sosuke leaves the construction site. Disappointed, he bumps into a young woman Midori and unintentionally injures her. Midori is looking for her dog, missing for a week. Feeling sorry for her injury, Sosuke helps to look for the dog together. Wandering around a quiet town, wondering why the fireworks do not start, he gradually discovers the memories of the past buried underground in Tokyo.
[ Official Site ]
[ Film Festivals, Awards ]
2021 Warsaw International Film Festival, Ecumenical Jury, Special Mention
2021 TOKYO FILMeX, Made in Japan
2021 International Film Festival Of India, Golden Peacock Award
[ Contact (International) ]
Gold View Co., Ltd.
Grand Bateau M, 4-7-28-702 Shimosyakujii, Nerima-ku, Tokyo 177-0042
Rep: ISHIOKA Masato
Attn: JOO Kiyo
tel: +81 3 6326 2125
fax: +81 3 6327 6468
E-mail: kiyo@goldview.co.jp
http://www.goldview.co.jp