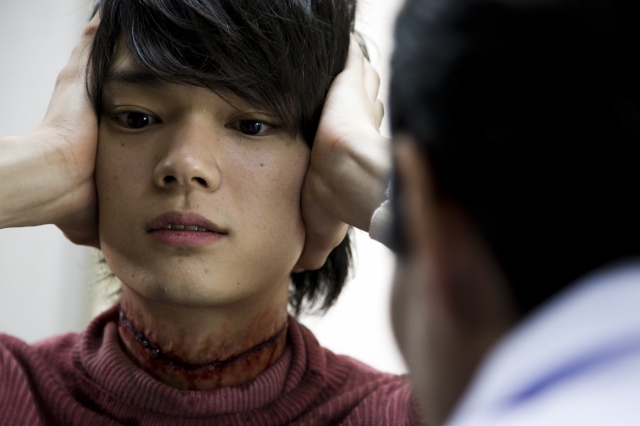 Release Date

August, 27th, 2011
Running Time

60 min
Color

Color
Screening Format

HDCAM
Screen Size

HD (16:9)
Sound Processing

Dolby Digital
Subtitle

English
[ Directed by ]
[ Cast ]
[ Staff ]
[ Production Company ]
Geneon Universal Entertainment Japan, LLC.
[ Distributor (Japan) ]
STUDIO HARD Deluxe
[ Production Studio ]
Arcimboldo, Fresh Hearts
[ Story ]
An entry in the Kojuncha project, in which three of Japan's foremost horror manga creators wrote and directed films based on their own works. Ito Junji, the creator of Tomie. Uzumaki, and many other works that have been made into films, adapts his own manga for the screen. One day, Tomio (Furukawa Yuki) visits the house of a fortune teller with his girlfriend. There he meets an older woman (Kiguchi Aya) and succumbs to her seduction. Tomio feels as if he is dreaming, but the woman has designs on his head.
[ Official Site ]
http://www.geneonuniversal.jp/movie/sp/kojuncha/
[ Contact (International) ]
For further contact details, please contact UNIJAPAN -> [ Contact ]