Pacchigi!
WE SHALL OVERCOME SOMEDAY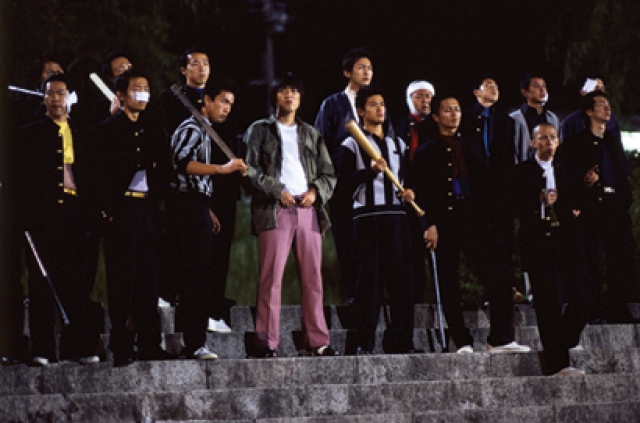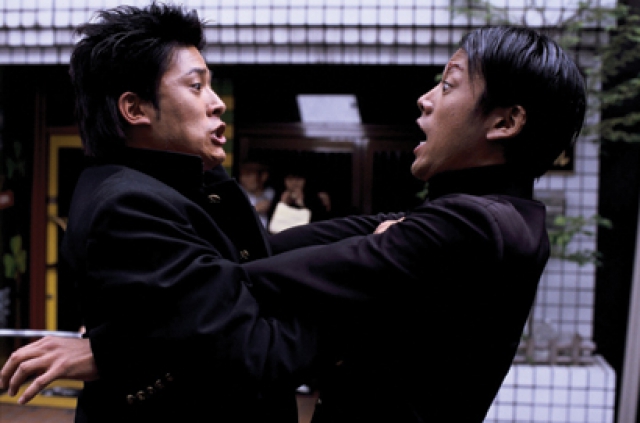 Release Date

January, 22nd, 2005
Running Time

119 min
Genre
Color

Color
Screening Format

35mm
[ Directed by ]
[ Produced by ]
[ Cast ]
[ Staff ]
[ Production Company ]
CINE QUA NON, Happinet, Eisei Gekijo, Memory Tech, S・D・P
[ Story ]
It's 1968 and the height of the "Group Sounds" (male harmony bands) craze in Japan. The Higashi High School Karate Club in Kyoto clashes with a gang of delinquents from a high school for resident Koreans, and their leader Ang-son (Takaoka Sosuke). Matsuyama Kosuke (Shioya Shun), from Higashi High School, falls in love with Ang-son's sister Kyong-ja (Sawajiri Erika), a talented flautist. Kosuke starts studying Korean and playing the guitar to get close to Kyong-ja and learns that the tune she plays, called 'Imujing River', is a song about homesickness for Korea. At first, Kyong-ja is unmoved by Kosuke's efforts, but gradually he wins her over and becomes friends with her brother and the other resident Koreans. However, when one of his new friends dies in an accident, Kosuke realizes the real depth of anti-Japanese feeling among Korean Residents in Japan. Only then can he sing 'Imujing River' with all his heart, torn between his love for Kyong-ja and his knowledge of the animosity between Japan and Korea. When his version is played on the radio, the depth of emotion touches everyone and Kosuke and his friends are reconciled.
[ Film Festivals, Awards ]
9th Pusan International Film Festival (Open Cinema)
The 7th Far East Film Festival
[ Contact (International) ]
J CINE QUANON, Inc.
8F 2nd Akiyama Bldg., 3-6-2 Toranomon, Minato-ku, Tokyo 105-0001
Rep: CHUNG Kwang Jin
tel: +81 3 5408 6176
fax: +81 3 5408 6074
http://www.j-cqn.co.jp