Gekijoban Pornographer Playback
PORNOGRAPHER: PLAYBACK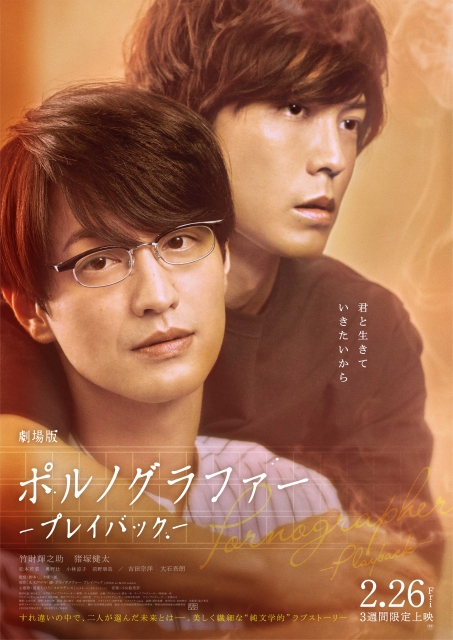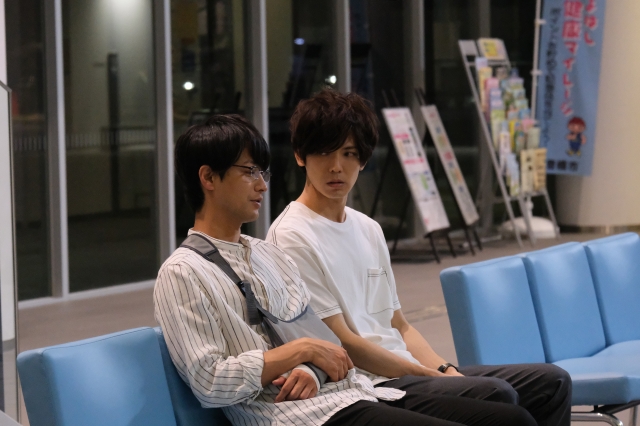 Release Date

February, 26th, 2021
Running Time

108 min
Color

Color
Screening Format

-
[ Directed by ]
[ Produced by ]
[ Cast ]
[ Staff ]
[ Production Company ]
[ Story ]
The erotic novel writer that dictates the text and the one that writes it down... Time has passed since their strange first meeting, and erotic novel writer Rio Kijima and college student Haruhiko Kuzumi have now become lovers. Even with Kijima now living back in his hometown in the country, the two have kept up a long-distance relationship by writing to each other. Kuzumi, despite being busy attempting to find a job, comes to visit whenever he gets the chance. However, Kijima, bitter at how Kuzumi is still young and has a future, insensitively lashes out at him. The pair slowly but surely drifts apart. Unable to adapt to living at his parents' home, Kijima leaves, moving in with Bar Akemi owner Haruko and her son Shizuo after hurting his arm in a fight.

Looking at his injured arm, Kijima remembers the day he met Kuzumi and forces a pen into Shizuo's hand and makes him take dictation. But one day out of the blue, Kuzumi shows up after learning that Kijima had left home...

Seeing someone else take dictation, a role he had thought held special meaning for both of them, Kuzumi vents his rage and grief. Confused, Kijima involuntarily confesses that he said hurtful things because of the lack of confidence in himself, but still the gap between the two grows ever wider.

Can these feelings that Kijima has been unable to voice time and time again ever find their way to Kuzumi's heart...?
[ Contact (International) ]
SHOCHIKU CO., LTD.
13F, Togeki Bldg., 4-1-1 Tsukiji, Chuo-ku, Tokyo 104-8422
Attn: SATO Kiwamu
tel: +81-3-5550-1623
fax: +81-3-5550-1654
E-mail: ibd@shochiku.co.jp
http://www.shochikufilms.com