Kimigayo Fukiritsu
Against Coercion -- Refusing to Stand for "Kimigayo"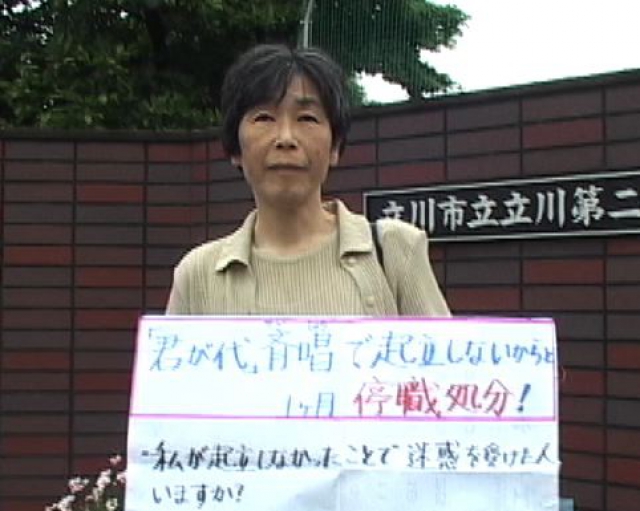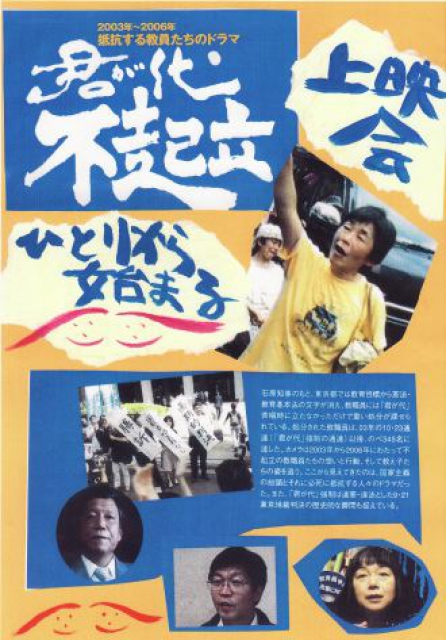 Release Date

TBD
Running Time

87 min
Genre
Color

Color
Screening Format

DVCAM
Screen Size

Standard (1:1.37)
Sound Processing

Stereo
[ Directed by ]
[ Produced by ]
[ Cast ]
[ Staff ]
[ Production Company ]
Video Press
[ Story ]
Since the 1999 law instituting the Hinomaru as Japan's national flag and the Kimigayo ("His Majesty's Reign") as the national anthem, debate has grown over schools' coercion of flag hoisting and anthem singing at official functions. The school board of Tokyo passed official notice allowing public school teachers to be punished for refusing to stand while the national anthem was being played. In this documentary, the filmmakers follow the teachers' "resistance movement" as they endure suspension and protest through demonstrations and lawsuits. Production house Videopress, renowned for its documentaries about labor and human rights, has produced Korean, Chinese, and English language versions for international distribution.
[ Official Site ]
[ Contact (International) ]
Video Press
2-22-17-403 Mukaihara Itabashi-ku Tokyo  173-0036
Rep: MATSUBARA Akira
Attn: MATSUBARA Akira
tel: +81-3-3530-8588
fax: +81-3-3530-8578
E-mail: MGG01231@nifty.ne.jp