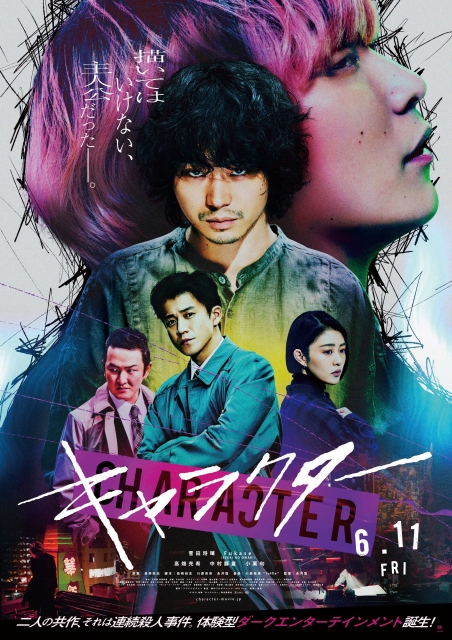 Release Date

June, 11th, 2021
Running Time

125 min
Color

Color
Screening Format

DCP
[ Directed by ]
[ Cast ]
[ Staff ]
[ Story ]
Keigo Yamashiro, dreams of becoming a successful manga artist. Despite his high drawing ability, he is unable to draw realistic villainous characters due to his overly good-natured personality, and has been living the life of an assistant all his life. One day, at the request of his boss, Keigo sets out to sketch "a house that looks happy to anyone who sees it". What he sees there are dead bodies of a family - and standing in front of them is a man.
Keigo, the first person to discover the murder, lies to the police, saying that he never saw the murderer's face. On the contrary, he creates the main character "Dagger", a murderer based on the murderer that only he knows, and starts drawing a thriller manga called "34". The manga, which depicts the real "evil" that Keigo lacked, becomes a big hit. Keigo then becomes a successful manga artist and marries his girlfriend Natsumi.
However, as if modeled after the story depicted in the manga "34," a series of incidents occur in which a family of four is targeted one after another. Detective Shunsuke Kiyota becomes suspicious of the striking resemblance between the manga and the cases, and turns his attention to Keigo.

Then, that man appears in front of Yamashiro again.
"I'm Morozumi. I've made a realistic reproduction of the one you draw"
[ Official Site ]
[ Contact (International) ]
TOHO CO., LTD.
International Business Department
1-2-2 Yurakucho, Chiyoda-ku, Tokyo 100-8415
Attn: HARAGUCHI Emi
tel: +81 3 3591 3530
fax: +81 3 3591 6610
E-mail: tohointl@toho.co.jp
http://www.toho.co.jp