Kisaragieki
KISARAGI STATION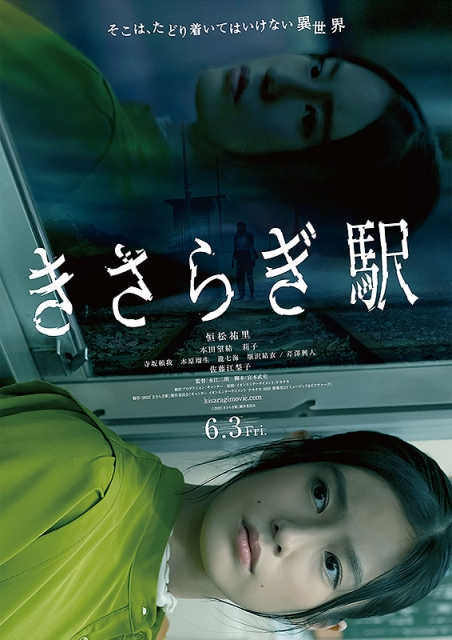 Release Date

June, 3rd, 2022
Running Time

82 min
Color

Color
Screening Format

DCP,ProRes
[ Directed by ]
[ Cast ]
[ Staff ]
[ Production Company ]
KISARAGI STATION Film Partners
[ Distributor (Japan) ]
AEON ENTERTAINMENT
[ Production Studio ]
CANTER
[ Story ]
What is Kisaragi Station?
Kisaragi Station is a ghost story that first appeared on the internet message board "2channel" in 2004, in the form of a first-person story narrated by the person experiencing it.
The storyteller, a girl named "Hasumi", tells the message board that she arrived at a strange, empty train station called "Kisaragi Station", and posts realtime updates on her situation. The story became an urban legend, and inspired huge online debate about the location of Kisaragi Station and the fate of Hasumi, who went missing after her posts.
The details of her story lead many to believe the station lies along the Enshu Train Line in Hamamatsu, Shizuoka, or perhaps in some other world connected to it.
Worldwide, and especially in Taiwan and Hong Kong, Kisaragi Station is one of the most famous Japanese urban legends. Since 2011, there have been more posts on Twitter and YouTube about Kisaragi station, with many people on Twitter claiming to have seen it for themselves.
[ Contact (International) ]
HAKUHODO DY MUSIC & PICTURES (SHOWGATE INC.)
International Sales Group
Akasaka Biz Tower, 5-3-1 Akasaka, Minato-ku, Tokyo 107-6321
Rep: KOYAMA Yohei
Attn: SHIBATA Atsumi
E-mail: isales@hakuhodody-map.jp
http://www.hakuhodody-map.jp