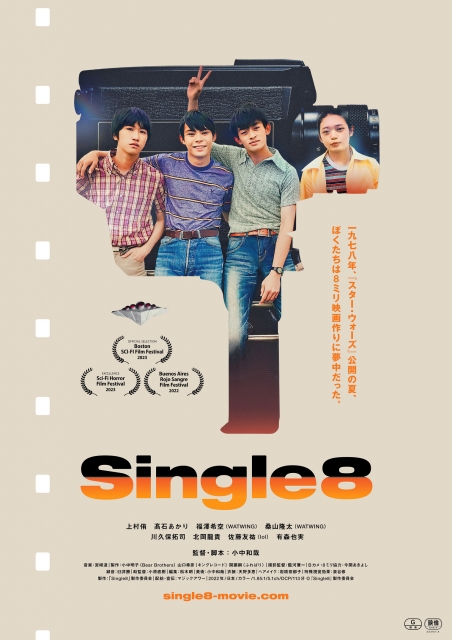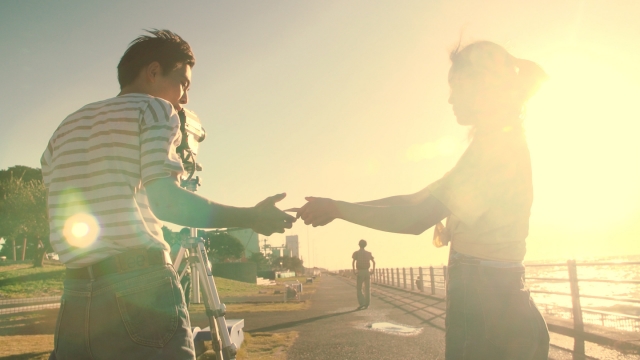 Release Date

March, 18th, 2023
Running Time

113 min
Genre

Drama , Youth , Sience Fiction , Feature
Color

Color
Screening Format

DCP
[ Directed by ]
[ Cast ]
[ Staff ]
[ Story ]
Summer 1978. Hiroshi, a high school student, is very excited to see "Star Wars", which has just been released in Japan. Wanting to shoot the huge spaceship, he built a miniature spaceship with his friend Yoshio and started shooting with an 8mm camera.
Hiroshi was only thinking about filming a spaceship, but Terao, the clerk at the camera shop, told him, "Make a proper movie". With that in mind, when the class was discussing the school festival project, Hiroshi suddenly proposed making an 8mm film.
Teacher Maruyama orders Hiroshi to present a story in the next homeroom so that they can take a vote whether they will make an 8mm film or not. Encouraged by the unexpected twist, Hiroshi ask Natsumi to play the female lead but she declines. In order to persuade Natsumi, Hiroshi, together with Yoshio and film buff Sasaki, begin to write the script. Then, by learning about the reverse shooting function that rotates the film in reverse, a story called "Time Reverse" is born, in which aliens try to reverse the time of the earth and redo the evolution of mankind. Hiroshi give the finished script to Natsumi and the homeroom begins. Hiroshi tells the story of "Time Reverse" and the class is amused by the story and Natsumi accepts the role of the female lead.
And thus the unforgettable shooting during summer vacation starts...
[ Official Site ]
[ Contact (International) ]
KING RECORD CO., LTD.
Visual Contents Production Division
1-2-3 Otowa, Bunkyo-ku, Tokyo 112-0013
Attn: UCHIDA Akiko
tel: +81 3 3945 2181
fax: +81 3 3945 2714
E-mail: akiko-uchida@kingrecords.co.jp
http://www.kingrecords.co.jp