Kisarazu Cat's Eye Nihon Series
Kisarazu Cat's Eye - Go Major!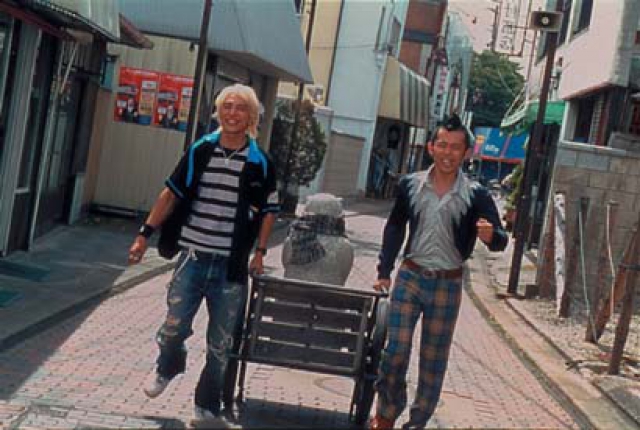 Release Date

November, 1st, 2003
Running Time

123 min
Genre
Color

Color
Screening Format

HDV
[ Directed by ]
[ Produced by ]
[ Cast ]
[ Staff ]
[ Production Company ]
TBS, J-Storm, Asmik Ace Entertainment
[ Story ]
Adapted from the TV drama series, and written by the most popular scriptwriter in Japan today, Kudo Kankuro, whose credits include Go and Ping Pong. Director Kaneko Fuminori also directed the original TV version.
Meet Bussan (Okada Junichi), a member of "Kisarazu Cat's Eye", a group of former high school baseball team players. Bussan is told he only has six months to live, yet he continues to drink beer and play around with his pals. Bussan and his friends happen to perform at the Rock 'n' Roll Festival in Kisarazu in support of headliners Kishidan. Delighted, the five begin to work on a new song. One night, Bussan visits the Korean-style pub that his pal Yamaguchi has opened, where he meets a Korean hostess named Yukke (Yoon Son-Ha) whom he falls in love with. A string of funny incidents happen one after another: Ogii, a homeless man who's supposed to be dead comes back to Kisarazu; and counterfeit money starts appearing around town. The Cat's Eye gang locate a suspect and solve the phony cash case. Finally, Bussan and his buddies headline a great, rocking live performance, though Bussan's last days remain short.
[ Contact (International) ]
TBS (Tokyo Broadcasting System Television, Inc.)
International Distribution Department, Media Business Division
17F, 5-3-6 Akasaka, Minato-ku, Tokyo 107-8006
Attn: International Movie Sales
tel: +81 3 5571 3085
fax: +81 3 3505 1584
http://www.tbscontents.com