Nigekireta yume
Dreaming in Between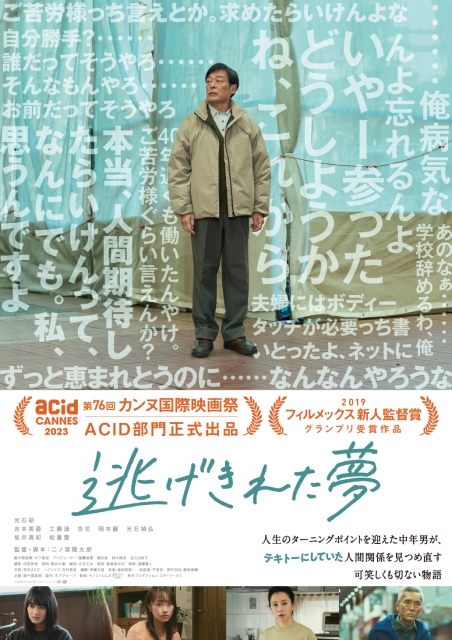 Release Date

June, 9th, 2023
Running Time

96 min
Color

Color
Screening Format

-
[ Directed by ]
[ Cast ]
[ Story ]
Shuhei is a vice principal at a regular high school in Kitakyushu, Fukuoka, living with his wife and 20 something daughter. One day, Shuhei goes to a nursing home to visit his father, who suffers from dementia and tells him, "I'm screwed. What am I gonna do now?"
The other day, Shuhei leaves his favorite restaurant without paying. His former student and the waitress of that restaurant, Minami, catches up with him to claim the bill. However, after taking out his wallet and staring at Minami, he ruefully tells her, "I'm ill," and leaves without paying. Same as his father, he was facing the reality of being diagnosed as dementia.
"Dreaming in Between" captures a few days of a man who is facing unacceptable reality, trying to reassess his relationships with his family, students and old friends, contemplating how he has lived and how to go on with his life.
[ Official Site ]
[ Film Festivals, Awards ]
2023 Cannes Film Festival, ACID
[ Contact (International) ]
Kinoshita Group Co., Ltd.
International Group
3F, AXALL Roppongi, 7-8-6 Roppongi, Minato-ku, Tokyo 106-0032
tel: +81 3 6459 2998
fax: +81 3 5908 2232
E-mail: kinofilms-master@kinofilms.jp
http://www.kinofilms.jp